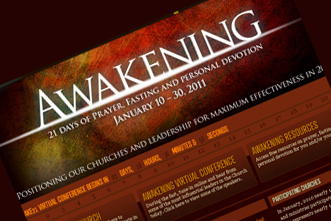 Jacksonville, FL – Celebration Church of Jacksonville will rally churches and believers around the world during January 10-30, 2011 for "Awakening," a 21 Day Season of Prayer, Fasting, and Personal Devotion. Launched in 2008, Awakening provides an opportunity for churches and ministry leaders to come together to pray, fast, and seek God at the onset of the year. Awakening also serves to inspire pastors and leaders to establish or strengthen a culture of prayer and fasting year-round in their church or ministry.
In January 2011, Awakening will include a new component: a 21-day virtual conference. Inspired by Daniel's example of seeking after God morning, noon, and night in Daniel 6, "Awakening" will host 3-4 sessions daily for 21 days at awake21.org. During the fast, people from around the world can attend the Awakening Virtual Conference, where more than 70 of the most influential leaders in the church today will speak on topics such as spending time with God, prayer, fasting, and the believer going deeper in their relationship with God.
"Awakening is all about coalition of churches coming together at the beginning of the year to do nothing but seek God together," said Celebration Church Lead Pastor Stovall Weems. "Our goal is to pray, fast, and seek God like never before with the sole purpose of glorifying God more than ever in the upcoming year."
For Celebration Church, the Awakening season has served as a catalyst for greater impact locally and globally. Strategic church health, expansion, and outreach ideas have been birthed during the 21 day season, setting direction for the church throughout the year.
In January 2010, nearly 1,100 pastors, churches, and ministries participated in Awakening, representing nearly one million believers worldwide. Participants included Lifechurch.tv with Lead Pastor Craig Groeschel and Fellowship Church with Lead Pastor Ed Young.
Churches and ministries can register for Awakening online at awake21.org. This online forum also offers free resources, including Awakening sermon series ideas, devotional guides, fasting recipes, tools for youth and kids, and more.
Celebration Church was founded by Lead Pastors Stovall and Kerri Weems in August 1998. With more than 10,000 weekly attendees, Celebration campus locations include Jacksonville, FL, St. Johns County, FL, Camden County, GA, Belfast, Northern Ireland, and Bulawayo, Zimbabwe.
Celebration also plans to open a new location in Greece in 2011.