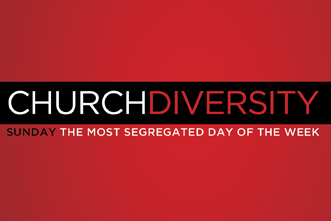 *We've announced all the Church Diversity winners! Check out the list here.
We could make a strong argument that we have come a very long way in the area of dealing with race and ethnicity. However, we are far from arriving. Race is just one of those things that people would prefer to ignore and would rather not talk about. The problem with that approach is the fact that ignoring the elephant is not going to make the elephant (insert elephant noise) get up and waddle out of the sanctuary. As a matter of fact, the elephant has been sitting around for so long that he's lazy and doesn't want to move. There are pockets of leaders and churches poking and prodding at the elephant, but not enough to get the attention of his elephant siblings around the world. Herding elephants is not an easy thing to do, and herding racial elephants is ten times as hard as herding any other. The first step in herding elephants is acknowledging that they exist. No one wants to be ignored— that includes the racial elephant. Acknowledgment is the first step to getting it out of the room. When there is an elephant in the room, acknowledge it.
From the perspective of both an attendee and a staff member, I have taken on the informal role of the racial elephant herder. In other words, I'm that guy who brings the diversity conversation to the attention of my supervisors, peers, and subordinates. The more you confront the real issues of race, the less awkward they become. Sometimes I feel like I'm beating a dead horse (to use another idiom); nonetheless, I keep forcing the RMRT (the Right Message at the Right Time). The key is timing, because if you force the conversation all day, every day, and do it at times that are not right, your elephant herding will begin to fall on deaf ears. People need to hear the right message at the right time. If you share the exact same message over and over and not at the right times, those listening may experience what LifeChurch.tv Directional Leadership Team member Sam Roberts refers to as "numbness of frequency." People will get numb to the frequency of your message and tune your frequency out like a bad AM radio station.
I remember when I was originally hired as the campus pastor of the NW Oklahoma City Campus of LifeChurch.tv. Just for a point of clarification, the term "campus pastor" has nothing to do with college, but rather a term we use to refer to our different locations. I was so excited about all of the possibilities of this new community, new location, new people, and new potential. I made a promise to God that I would do everything in my power to be intentional about creating a culture and campus that truly embraced diversity. I remember it as though it was yesterday. I got in my car and drove around the area, praying for all that God would do and praying for a church congregation, staff, and community that truly embraced diversity rather than merely tolerating it. I didn't experience that type of heart posture at other churches that I was previously a part of. That's not to be critical; it's just the brutal facts. I actually never heard the word diversity used unless I was a part of the conversation, and I was perfectly okay with being the one who initiated those conversations. I would often tell people that I felt that part of my calling at LifeChurch.tv was to be a part of elevating the diversity conversation.
As I drove around, I went through neighborhoods and communities within a five-mile radius of a new and soon-to-be vibrant refurbished Wal-Mart storefront that would soon become known as the NW Oklahoma City Campus of LifeChurch.tv, aka "The N-Dub." I found myself pondering how we could impact this unique community that was comprised of everything from wealthy people to a strip of Section 8 housing and low-income apartment complexes located on an infamous street called Lyrewood Lane. The local fire department referred to it as Firewood Lane. The local police department called it Homicide Lane, and the rest of the community referred to it as Lyrehood Lane. Now mind you, this section was nestled off by itself and the majority of the surrounding area did not look anything like it. Like I said, we had all classes and races in this area.