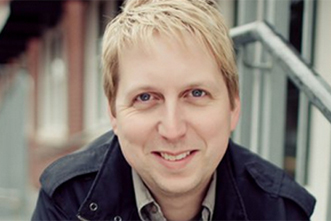 When you think of reading your Bible you might picture a leather-bound book, exquisitely designed with gold-trimmed pages and a fancy ribbon. However, many faithful readers are changing that perception by engaging the Word of God on-the-go with something they carry with them all the time–their mobile phones.
Bobby Gruenewald is the Innovation Leader at LifeChurch.tv in Edmund, Oklahoma, and the creator YouVersion, the world's largest mobile Bible app. Due to his work with YouVersion, Gruenewald was recently named one of the top 100 most creative leaders in business by Fast Company magazine next to the likes of Oprah Winfrey, Arianna Huffington, Conan O'Brien and many other high-profile creatives.
Gruenewald was reluctant to receive the honor but his team convinced him of the benefits. "The team was right in their effort because part of our vision here is that people will see the Church as innovators, as people at the epicenter of things like art and science and creativity, things that the Church used to be recognized for hundreds of years ago, and then somewhere over the last couple hundred years, we as a Church have just taken a back seat in all those areas," says Gruenewald.
Gruenewald is the only name in the religion section on the Fast Company list and considering the overwhelming impact of YouVersion–it's certain that he deserves to be there.
For Gruenewald it's not just about encouraging people to download an app—it's about reshaping our culture today with the power of God's Word.
"It's possible we could see the most engaged generation in history as far as the Bible is concerned, which is a pretty big leap because of all the trends and all of the data points were pointing to people reading the Bible less and less decade after decade," says Gruenewald.
The idea for YouVersion came to Gruenewald on a layover at the O'Hare airport in Chicago in 2006. "I was going through the security line, and for whatever reason at the time, I was sitting there processing what today's technology could mean for the Bible and could it be transformational in our engagement, and if so, in what ways," says Gruenewald.
Gruenewald tucked the idea away and discussed it later with the team at LifeChurch.tv. In 2007 they felt it was time to go live. YouVersion started out as a Bible Web site and the results were good but not revolutionary. Soon after the Web site launched they decided to try a free mobile version. The team was a skeptical at first because viewing the Bible on a mobile device seemed counter-intuitive–the screens are small and it's not the ideal format to read a book the size of the Bible. However, when the mobile version launched they discovered that it was much more natural than they had anticipated.
The traffic on the mobile version exploded and in days they hired a full-time employee to focus completely on the project. Soon after the mobile version went live Apple announced they were opening up the App store and the YouVersion App became one of the first apps released. Within days there were already 80,000 people who installed it on their iPhones.
Today there are over 25 million people who have downloaded the YouVersion app on a mobile device and it continues to grow at a rate of about 2 million new users per month.
But, for Gruenewald, it's not just about the number of people who install the app–it's about how many people are really engaged with the Bible. So far there have been a collective 9 billion minutes spent reading the Bible using mobile devices with YouVersion. And, beyond reading, people are also sharing scripture on their social networks everyday with about 25,000 posts from YouVersion on Facebook and Twitter.
One area of tension remains for many mobile Bible users though: is it kosher to break out your phone–instead of a traditional Bible–in the church service?
"We have a lot of pastors and a lot of church leaders that are big fans and users of YouVersion, and they actually encourage it from the pulpit.  Some of them even teach from their phone using it as their Bible from stage.  So that's done a lot to reduce some of the reservations or hesitation," says Gruenewald.
Gruenewald is quick to point out that YouVersion isn't meant to replace the traditional Bible, but to create more opportunities for Bible reading and to take down barriers for Bible engagement.
What God is doing through YouVersion is incredible—changing mobile devices into Bibles that people carry with them everywhere they go. It's nothing short of a Bible-engagement breakthrough.
Gruenewald and the LifeChurch.tv team have big dreams for the future of YouVersion. Eventually they would like to support YouVersion in every language that has a Bible translation.
"I think it's a pretty exciting time to be a church leader, and there's some tremendous opportunity that's out there, and it doesn't all involve even building applications. It could very well just be leveraging the tools that exist," says Gruenewald.