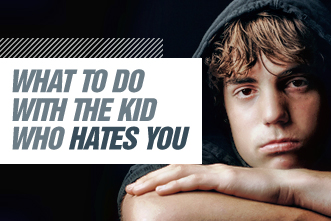 Perhaps I am the only person, but I am pretty sure I am not the only one out there who has a student that just doesn't like me, and I mean really doesn't like me. In many cases, it starts with a leadership decision they didn't like or a time that I held them accountable or challenged a decision they made, but they are upset and holding onto that anger as if it were a trophy. Maybe you have never experienced this, but for those that have or those that have not yet, it's a good thing to know, because being in leadership is a lonely place sometimes, and the target on your chest can be sizeable. Here are four things that I have learned in dealing with students like this.
Kill them (with kindness of course): These are the kids that I will try to go out of my way for – dropping by their work (where they have to talk to me!) or school – and really try to rebuild that bridge or build trust again. This is not because I need them to like me, but being intentional with the students that would be easier to avoid will mean something to them, even if not right away. Being gracious and relentlessly forgiving is what the best leaders I know do.
Accept it: If there is a student that despises you but comes to youth group week in and week out, CONGRATULATIONS! You are doing a heck of a job! When youth becomes about small groups, worship, and what is being taught from the Bible, and not about who is teaching it, that is a sign of a strong youth group. When a ministry becomes a personality cult, hanging onto the charisma of one leader, it's unsustainable and destined for failure. Sometimes, you need to accept that not every student is going to be on board.
Move on: There will come a point where you have tried everything, exhausted your options, eaten too many ice cream cones from their work, and you need to move on. Don't mistake this as a write-off of that student, but a moving forward of the entire group. When you focus on the students who want to be discipled and they begin to move and grow, eventually that other student will decide whether they want in on what's going on or whether they are going to remain on the outside looking in. It's important that we as leaders move on, focusing on what we are called to do, and make disciples of our students, investing in the ones who desire it.
This post was originally featured on MoreThanDodgeball.com.