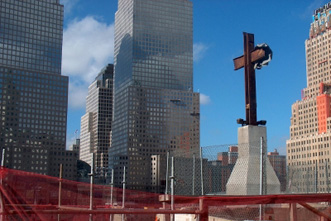 Many months ago, the kind folks at Table Talk magazine asked me to write an article on the change in Christian practice and presence in NYC since 9-11. The article was one of several essays in their 911 issue. I had heard many anecdotal stories of massive growth (that turned out not to be true) but also found some better research that pointed to some helpful trends.
I was born and reared in metro NYC (Levittown to be specific). My father tells me he helped lay the iron re-bar in what was then the World Trade Center. My grandfather was a Manhattan fire battalion chief who knew many of the Firefighters who perished in 9-11. And, I have lived in NY longer than any other state. So, NYC is near and dear to me. I was glad they asked and happy to agree to write the article.
I worked to assemble some data and analysis on what was taking place and then shared the results in TableTalk. Here are some excerpts from that article. You can read it in it's entirety here.
It should not surprise us that there is interest in how people respond after tragedy. Missiologists have long known that receptivity to the gospel tends to increase in times of distress (especially national distress). But has this been the case in the area closest to the epicenter of terror? In a LifeWay Research study, we asked fifteen thousand Americans when they were most open to issues of faith. When specifically asked whether they were "more open to considering matters of faith … after a major national crisis such as 9/11," 38 percent answered in the affirmative. In the face of that fact, we should be willing to investigate what impact the gospel has had on New York City since that day…

[T]he Values Research Institute reports a small but measurable shift. During a six-week span, VRI representatives visited 729 sites, including 295 Protestant sites and 197 evangelical church sites. The data was collected street by street from the area known as Manhattan center city. That study indicates that the percentage of Manhattan center city residents attending an evangelical church has tripled in the last twenty years.

In January 2011, the Washington Post reported, "New York has gotten a lot of press in recent months over the [Islamic] center controversy, but what's been hidden amidst all the invective is that New York is exploding with religious fervor. I know it's hard for many folks outside the Big Apple — who write off the country's largest city as hopelessly secularized — to grasp this." The reports from both pastors and the Post should give us cause to celebrate — if they are correct….

An unreleased series of surveys (graciously released for this article by the Barna Group) found increases in several spiritual markers in the New York City media market between 2000 and 2010 and decreases in others. The percentage of people who attended church "in the past week" rose from 31 percent to 46 percent. Those self-identifying as "born again" increased from 21 percent to 32 percent, while those who read the Bible outside of church increased slightly to just over one-third…

The VRI claims that Central Manhattan alone has 197 evangelical churches, with 39 percent of them having been founded since 2000. Its map of Central Park South to Battery Park is dotted with scores of churches….

The horror of 9/11 left a smoldering pile of dusty rubble, but the gospel of Jesus Christ has overcome the terror in the lives of many New Yorkers, changing lives where the likelihood of change was doubted. "Political scientists had predicted that religion would not play any future important role in city politics," Tony Carnes of the VRI told the Post. "Journalists and intellectuals beat the secular drum harder than any street musician. It's time to change our thinking; it's time to get a new tune."

The numbers, as a whole, speak to gospel advance — perhaps not as much as many would want, but still present. It will be interesting to see the growth and development of the Christian presence in New York City in the next ten years.
Thanks to David Kinnaman from the Barna Group for sharing this data with me. After they graciously sliced and shared the data, I encouraged them to release it themselves. They recently released a "Barna Update" on the subject that you can find here.