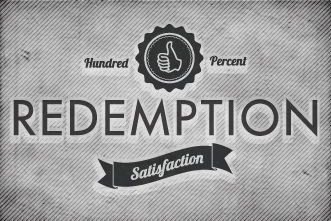 We Are Desperate for Change
Broken people-which is all of us-want change. Devastated by sins done against us and despairing in sinful responses, we desire to be redeemed from it all. We want freedom from pain, suffering, and condemnation. For Christians, change is linked to repentance. Our brokenness translates into godly sorrow, which brings heart change. We desire to be different. We want to be like Jesus. We don't want to sin. In most cases, change happens slowly. Slowly, our thoughts, motives, desires, and behaviors are altered by the Holy Spirit as we trust God to change us.
When a believer is stuck in a rut, there's a frustration with self. We take a look at ourselves and fixate on the problem. A solution is in order. We anxiously survey the "self help" options like an overweight person perusing the diet ads. Motivated by wanting a fix for our broken selves, we shop around. Redemption, then, becomes a desirable product to be purchased. Like an infomercial, we are inspired by the befores and afters, hoping and coveting results. Except, it isn't weight loss that we're after; it's our hearts that need change.
You Can't Buy Redemption
Redemption is about the Redeemer, but so easily, we make it about the results. We want his gifts often more than Jesus, himself. Redemption isn't a commodity; it is what God does for us that results in our transformation. One can want redemption, but it begins and ends with wanting Jesus. It is a subtle yet significant difference to see people thirsty for redemption's results more than craving the redeemer for lasting satisfaction. We are tempted to focus on being changed rather than fixing our heart's gaze on Christ.
For example, the self-aware man that finds himself frustrated in a perplexing cycle of condemnation and temptation wants out. He wants change. He might be tempted to be more curious about analysis than repentance and relationship with Christ.
The people-pleaser gal that finds herself never measuring up to the expectations of everyone in her life might be tempted to dutifully work out her change process instead of focusing on Jesus, who is already pleased.
The lonely, abused man wants healing, yet the only lasting satisfaction is being known by God.
"We are tempted to focus on being changed rather than fixing our heart's gaze on Christ."
Wanting redemption more than wanting God is a delusion. Because God loves us beyond our comprehension, we can't fathom the scope of redemption that is available in Christ. Like missing the forest for the trees, our vision is blurred when we fixate on change and miss Jesus. We can't bring redemption to ourselves or muster up change. We need a miracle.
Jesus Bought Miraculous Redemption
You are already loved. Redemption is as certain as Christ's resurrection. As heart change happens, so can our realization of the miracle that occurs. Jesus died in our place for our redemption. His blood was shed so that ours wouldn't have to be. He endured the cross so that we wouldn't have to pay the penalty for sin. Often, we stumble through life ignoring this miracle of redemption. Instead, we work for our own redemption. Before we know it, we've put God on the sidelines in the game we play of becoming a "better person." Change is inevitable as the Holy Spirit is given room to transform us. Repenting to Jesus ignites the grace that God freely gives us. Our hearts are changed because God intends for us to become more like Jesus. Jesus is our redemption.
It's ALL Grace
Tempted to "fix ourselves," (which is impossible) we focus on the "change process" instead of the "changer" himself. His grace makes redemption possible.
In him, we have redemption through his blood, the forgiveness of sins, in accordance with the riches of God's grace that he lavished on us. – Ephesians 1:7
God has promised us that he is faithful to redeem us because he lavishes grace upon us. Through the blood of Jesus, we are changed, we are loved.
Believing that God's grace is abounding, we need to remind others to not be dazzled by the change process but to fix our eyes on Jesus wholeheartedly. Jesus already bought redemption for us, and we can stand in confidence. He has lavished his love upon us. We can gaze at his face, changed by his grace, and believe that he will (eventually) change us into his image.
This post was originally featured on TheResurgence.