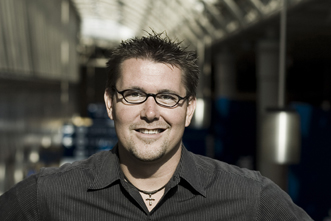 It all comes back to the reticular activating system.
That is one of our most-repeated mantras at National Community Church. Let me explain what it means. At the base of your brainstem lies a cluster of nerve cells called the Reticular Activating System. We are constantly bombarded by countless stimuli vying for our attention, and it is the job of the reticular activating system to determine what gets noticed and what goes unnoticed. Like a mental radar system, the RAS determines what makes a blip.
Here's how it works.
When God gave us the dream of opening a coffeehouse on Capitol Hill a few years ago, I immediately started noticing everything about coffeehouses. Before I had that dream, the only thing I noticed was the taste of my drink. After the dream was conceived, I noticed everything from signage and seating to store layout and product branding. The dream of starting a coffeehouse created a category in my reticular activating system, and I started collecting ideas.
That is why goal setting is so important. Goals create categories in your reticular activating system. Once you set the goal, you start noticing anything and everything that will help you accomplish the goal. That is the way God has wired us. The brain is a goal-seeking organism. When you set a goal, it creates structural tension in your brain, and the brain will seek to close the gap between you and your goal.
Don't Miss
My Life List
On a rainy afternoon in 1940, a fifteen-year-old dreamer named John Goddard pulled out a piece of paper and wrote My Life List at the top of it. In one afternoon, he wrote down 127 life goals. By the time he had turned fifty, John Goddard had accomplished 108 of his 127 goals. And they were no garden-variety goals.
Milk a poisonous snake
Skin dive to 40 feet and hold breath 2 ½ minutes underwater
Learn Jujitsu
Study primitive culture in Borneo
Land on and take off from an aircraft carrier
Run a mile in five minutes
Go on a church missions trip
Retrace the travels of Marco Polo and Alexander the Great
Learn French, Spanish, and Arabic
Play the flute and violin
Photograph Victoria Falls in Rhodesia
Light a match with a .22 rifle
Climb Mt. Kilimanjaro
Build a telescope
Read the Bible from cover to cover
Circumnavigate the globe
Visit the birthplace of Grandfather Sorenson in Denmark
Publish an article in National Geographic magazine
John Goddard has not accomplished every goal he set. He never climbed Mount Everest, and his quest to visit every country in the world fell a few countries short. There were also some disappointments along the way. His goal of studying dragon lizards on Komodo Island was thwarted when his boat broke down twenty miles offshore. So Goddard hasn't accomplished all of his goals, but I doubt that he would have accomplished half of what he has if he hadn't set the goals in the first place. After all, you'll never achieve the goals you don't set.
When I first read Goddard's list of life goals, I was inspired to come up with my own life goal list. Every year I check a few goals off the list. I also add new goals along the way.
10 Steps to Setting Life Goals
These steps are described in further detail in my book, The Circle Maker. I also list my 115 life goals. But here is a list of ten steps. You'll notice that goal setting starts and ends the same way: prayer.