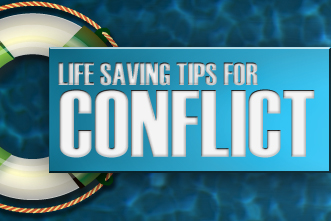 As a leader, there are a few lessons you learn very quickly. One is that people are beautiful. The other is that people are messy, and leading them a messy business.
I've yet to work with a leader who didn't have to grapple with significant relational conflict within his or her organization. Like it or not, it comes with the territory. But rather than resist it or deny it or try to wish it away, I challenge leaders to see conflict for what it really is: an essential element in God's developmental work in every human soul and an opportunity for authentic transformation.
So how do you navigate conflict in a way that produces genuine transformation? In my work with leaders and their teams, it's not uncommon for us to spend many weeks working through deep conflict issues in a way that results in God-inspired change. The process is delicate and rarely easy. But it begins with the leaders learning to follow these foundational guidelines:
Don't Miss
1. Don't talk triggered.
It does little good (and often great harm) to try to resolve a conflict when you are emotionally triggered ~ that is, when the part of you that is angry or hurt is driving your behavior. Hold off the conversation until you have calmed down and a measure of peace has returned to your heart. It's okay to still feel anger or hurt when you talk with someone; what matters is that your feelings are not "running you."
2. Don't assume malicious intent.
Think about the number of times in your life that you have maliciously intended to hurt someone by your choices or behavior. Chances are the number is very small, if not zero. In most organizational cultures, when people hurt people, it's rarely intentional. Until you know otherwise, give the other person the benefit of the doubt by assuming there was no malicious intent.