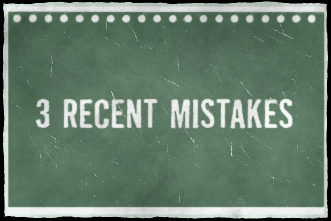 Over the past 15 years (and 3 weeks) that I've been in full-time ministry, I've made more than my fair share of mistakes. I've made so many I'm currently pitching a book called Youth Ministry Nightmares where I talk about the stories surrounding my biggest leadership gaffs.
While these aren't nightmares, they are some mistakes I've made in the not-so-recent past:
1. Neglecting rookie volunteers
There is one group of leaders in your ministry that need you more than anyone else: the newbies. My mistake in the past was to concentrate on launching and not sustaining. The more time you take to make rookie leaders great, the more you will retain and the better (and faster) experienced veterans they will become.
2. Not changing your leadership style to fit your team
When my volunteer team was all my close friends, I could manage relationally, and we were overflowing with trust and history. As teams change and you encourage outsiders to join your team, make sure you adjust to the people God has given you. Make history with them. Design activities to build trust. Make sure they are fully trained and equipped.
3. Falling in love with youth ministry more than Jesus
From time to time, I have found myself in an unhealthy tension–choosing to love youth ministry more than Jesus. Loving what I do instead of who I do it for. It doesn't take long in a season of discouragement to reveal which way you have erred.
I hope my mistakes help you be a better youth worker! Share your mistakes in the comments, too!