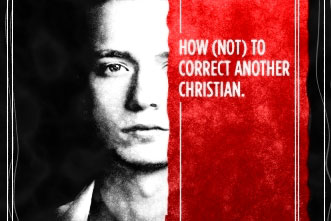 When I was a young Christian in my late teens, I was "rebuke-happy." I had no problem confronting and correcting the faults of others. The people I looked up to modeled this to me, and I benightedly followed their example.
I knew the Scriptures well; so I was cocked and loaded for bear with my Bible verses in hand. Some of my favorite texts at the time were those in Proverbs that say wise people love reproof and fools hate it (Proverbs 9:8; 12:1; 13:1, etc.)
As I grew in the Lord, I came to some painful discoveries. One of them was that I had no idea how to correct another believer in the spirit of Jesus Christ. And I did more damage than good with my "corrections."
Another was that God didn't want me correcting everyone else, even when I spotted faults and flaws in others (which, by the way, is no great gift or something to boast about).
Adjusting the behavior of my brothers and sisters in Christ wasn't my job or duty. And I needed to pay more attention to my own spiritual walk than that of others (James 4:11).
(In my early years as a believer, I was part of a Christian tradition that was trigger-happy to straighten everyone else out. It was bad teaching that bred legalism and self-righteousness. And I was guilty of embracing it.)
Still another lesson I learned was that in those times when the Lord actually wanted me to correct another person, if I didn't deliver that correction in Christ, I would end up losing a friend.
An offended friend is harder to win back than a fortified city. Arguments separate friends like a gate locked with bars. (Proverbs 18:19)
I wish back then that someone taught me what correction looks like when done in Christ.
Hence this post.
While this article is by no means an exhaustive treatment of the subject (it's a blog post, not a book), here are 14 things that I learned about correcting another child of God.
Note that I'm not talking about reviewing someone's writings or analyzing their teaching. Though this, too, should always been done in a spirit of grace and first offered to the authors in question directly and privately before publishing a critique publicly. Intellectual integrity demands this to ensure that misrepresentations aren't published and spread.
In this post, I'm rather focusing my attention narrowly on correcting a person's flaws or actions.
Here are 14 things to consider before you correct another Christian:
1. Never base your correction on secondhand information.
That is what a person allegedly said or did. Always go to the person you are concerned about directly. Hearing one side of a story is a horrible basis upon which to correct someone. I've been guilty of this in the past.
2. Just because you see someone else's faults doesn't give you the right to point them out and correct them.
The ability to spot the flaws of others is no gift. If you begin riding that horse hard, your card will eventually be pulled. Fault-finding is something that Scripture condemns (Jude 1:16).
3. There have been many Christians damaged because someone corrected them in a way that was contrary to Jesus Christ.

4. If you correct someone outside of grace, you will surely lose their friendship (Proverbs 18:19).
5. Your spiritual instincts will lead you on how to deal with an offense.
One way is to bear the cross, be wronged, and forebear (Colossians 3:13; Ephesians 4:2; 1 Corinthians 6:7; Matthew 5:39). Another is to talk to the person privately and correct them in a spirit of meekness (Galatians 6:1; Matthew 18:16). Still another is to find a mediator to help you resolve the conflict (1 Corinthians 6:1-6).