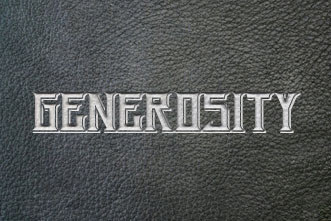 It has been exciting to hear feedback on how this series of Blog Posts on "Developing Extravagant Givers" is already helping many of you. Today's topic has the ability to make a significant impact. Open your heart as you look at "How to Develop a Culture of Generosity."
To begin, you must see that setting the stage for a successful stewardship system requires a culture of generosity in your church. Generosity is an often intangible force that trickles down from you to your people and results in specific actions.
As your people see you being generous with resources to support them, make them more comfortable, and give them the best opportunity to grow, they will begin to adopt that same spirit of generosity. Your people will act in the same vein and approach giving in the manner that the church demonstrates it.
How do we do this? By modeling the outward expression of a generous heart. And yes, we are called to give to our people – sacrificially, even. How will people ever see or understand God's generosity? As the church, we simply need to model it.
God spares nothing for our sakes, as is evidenced by Jesus' death on the cross (John 3:16; Phil. 2:8). And he also promises that he will provide for us abundantly (John 10:10). It's surprising how many churches withhold good things from their people from a fear that they will run out of money!
I am often amazed by what churches attach a price tag to. I came across churches who would charge new believers for New Believer Bibles and churches who would charge $.50 for a cup of coffee before the service. What missed opportunities to till the soil of people's hearts by ministering freely to them!
Approaching ministry with such a scarcity mentality robs the church of its chance to shine generosity. Instead, remember what Jesus teaches us in Luke 6:38, "Give, and you will receive. Your gift will return to you in full – pressed down, shaken together to make room for more, running over, and poured into your lap. The amount you give will determine the amount you get back." As church leaders, let's remember that this applies to the corporate ministry of the church.
The average unchurched Joe on the street sees the church as an institution that is always asking people to give. When Average Joe gets invited to your church, you have an opportunity to change that mentality. What if we could "wow" people with our unexpected generosity, all the while reflecting the depths of God's generous heart?
What if your church could become known in your community as the church that gives rather than the church that takes? What a profound impact that would have on creating a culture of generosity within your church and a reputation of generosity beyond your doors.