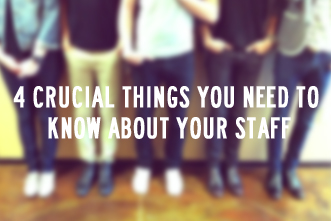 People in ministry have a tendency to run until they collapse. It is important to take care of staff members individually so they are continually sustained in all areas of life.
1. How are you doing spiritually?
As a young pastor, I don't remember many people taking an interest in my personal spiritual life. My pastor was phenomenal at teaching us the Bible (and for that, I'm forever grateful). But most of my early mentors didn't help me develop my own disciplines for spiritual growth.
When I meet with staff members, I want to know how they're doing spiritually.
In ministry, it's way too easy to substitute ministry for our time with God. Doing ministry without spending time with God is like trying to drive a car without refilling the tank. Eventually, it just won't work anymore.
Bill Hybels once said, "The way I was doing the work of God was destroying the work of God in me."
I don't want that to happen to those who serve with me.
So…how are you doing spiritually?
2. Who is speaking into your life?
In the early years of our ministry, I poured my life into each staff member. Now, with a large staff in many locations, I can no longer invest in every individual staff member.
That's why I want to know, "Who is speaking into your life?"
Who's rattling your world?
Who thinks so radically that they give you a headache?
Who's correcting you when you need it?
I want to give honor to Lyle Schaller for all the years he "disturbed" me with his wild ideas. Also, Bill Hybels and Andy Stanley have spoken wisdom into my life in a profound way. I'm deeply grateful to all of them.
Who is speaking into your life? What are you learning from their influence?