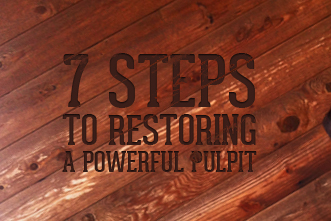 Not long ago, I heard a noted theologian say preaching has fallen on hard times and that preaching is on the way out. "There is no power in modern pulpits," he insisted. I quickly dismissed his thesis about the end of preaching with Scripture's encouragement: "Where is the one who is wise? Where is the scribe? Where is the debater of this age? Has not God made foolish the wisdom of the world? For since, in the wisdom of God, the world did not know God through wisdom, it pleased God through the folly of what we preach to save those who believe" (1 Cor. 1:20-21).
Having said that, we do live in a time of uncertain trumpeting (1 Cor. 14:8). As I pondered his message further, I concluded that whether we agree with him there are seven great gospel certainties without which our preaching power always will be soft. Of Christ's message it was recorded, "The crowds were astonished at His teaching, for He spoke as One who had authority" (Matt. 7:28-29). What are these seven great gospel certainties that supercharge the authority of preaching that is powerless?
The first is the certainty of the gospel's Word, the Holy Scripture! When we lose confidence in Scripture, our preaching always automatically will enter a spiritual landslide. Nobody can be confident about a message of uncertain source. In His final great prayer for us, Jesus affirmed the foundation of His personal confidence: "Sanctify them in the truth; Your Word is truth" (John 17:17). Before that, it was Isaiah's certainty: "The grass withers, the flower fades, but the Word of our God will stand forever" (Isa. 40:8).
Paul echoes the same sentiment: "I would remind you, brothers, of the gospel I preached to you…that Christ died for our sins in accordance with the Scriptures, that He was buried, that He was raised on the third day in accordance with the Scriptures" (1 Cor. 15:4). Preaching that is not inspired by and founded on the authority of Scripture will not do what it needs to do for God or the people who hear it.
Our second certainty is the certainty that God is the gospel's Author. Again, we find the confirmation in the inspired words from Paul's writings: "I would have you know, brothers, that the gospel that was preached by me is not man's gospel…I received it through a revelation of Jesus Christ" (Gal. 1:11-12). "We also thank God constantly for this, that when you received the Word of God, which you heard from us, you accepted it not as the word of men but as what it really is, the Word of God" (1 Thess. 2:13). Peter also affirmed this: "No prophecy was ever produced by the will of man, but men spoke from God as they were carried along by the Holy Spirit" (2 Pet. 1:21).