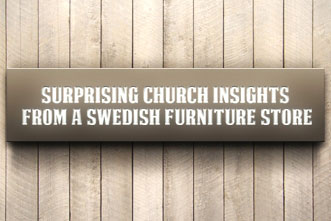 I spent a couple hours in IKEA recently. If you're not familiar, it's a massive store of home furnishings that has become extremely popular in the larger cities where they have one. It's very European and draws you in quickly with well-displayed, reasonably priced merchandise. Not everyone loves the place, but it's obvious many do.
I took my wife, Cheryl, and she was a serious shopper. We recently moved to our new home in Lexington, KY, and Cheryl hoped to find some things to make the home more livable. I was simply the chauffeur, but I began to see something in IKEA of which I think the church can learn. So I began to ask…
What could the church learn from IKEA?
You see, one of our goals is to get people to move from visitors to regular attendees to committed, growing disciples. From the worship gathering to discipleship programs, to serving, to giving of their time and resources, we want to see them involved in every program of the church. Ideally, we want to reach people who know nothing about our church, and may not even be interested, to express interest in our message.
IKEA has figured out how to expose people to everything they sell. They've learned how to captivate people into their products, from the entrance of the store to the exit. I'm not necessarily an advocate for their products, but as far as exposing people to everything they sell, they have a working system.
Here's how they seem to do it:
Initial buzz created:
People drive for miles to get to the nearest IKEA. When we arrived, people were outside taking pictures of their arrival.
How can the church get people so excited about visiting before they ever get to our buildings?
Make it easy on first-timers:
IKEA's system is simple. You walk in the door, they hand you a bag. You grab a shopping cart. Go. They've got these map displays throughout the store, or they've got some mini maps you can carry with you.
How can the church make it incredibly simple for first-timers when they visit? (And what churches are doing the best job with this?)
Keep people interested along the way:
IKEA's simple, well-laid-out displays go throughout the store. As soon as you would start to get bored, there will be something you haven't seen before, some creative display, some great price that captures your attention.
How many times have you been frustrated because someone came to church, got initially excited, then fizzled before you really felt they were being discipled? How can we keep people interested, excited, engaged, and motivated throughout the discipleship process?
Make it easy-to-follow:
IKEA constantly gives you directions so you know you're not lost. Every step along the way, they have arrows telling you which way to go next. They have signage telling you where you are. They have products arranged in an understandable way.
Does this describe your church? Do people know what the next steps are in discipleship? Can they easily find their place in your current systems and structure?