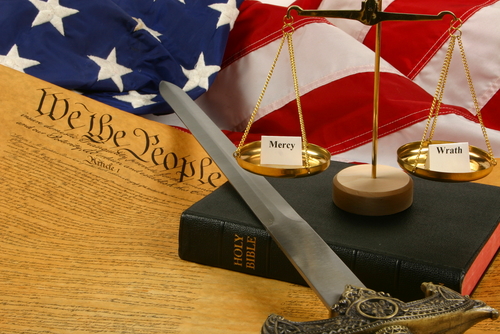 As reported in The Christian Post, actor, producer and evangelist Kirk Cameron spoke at the 2012 Values Voters Summit in Washington, D. C. last Friday pleading with attendees to fix the "mess" by returning America to the "original factory settings" such as learning from the country's founding Fathers by taking wisdom from the Bible and their faith in God. "Perhaps we have forgotten what made us such a great nation in the first place," Cameron commented.
Cameron said he recently returned from a trip to England and Holland to retrace the steps of the Pilgrims and understand where their faith and family values came from. On this trip he was led to the largest granite monument in the U.S. "Most people have never heard of it…It sits on the top of a hill in Massachusetts. It is 180 tons of granite… and it lays down our forefathers' strategies for how to build and sustain a free and just society. It's called the Monumental Forefathers."
The monument stands over 80 feet tall in Plymouth, Mass., and is a statue of a woman holding a Geneva Bible and pointing to heaven.
"According to our forefathers, God is the platform," he said.
Cameron, 42, has six children and played the character Mike Seaver in the 80s era situation comedy, Growing Pains. He is currently producing a film titled Monumental: In Search of America's National Treasure aimed at encouraging America to return to the values that made them a great nation.