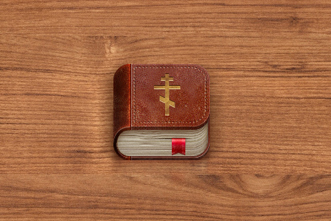 I bought an iPad the first day they were for sale in 2010. My main purpose in this purchase was for preaching. It has been a great transition over the last few years from my leather preaching notebook to my iPad.
I preface my explanation of how I preach from an iPad with the disclaimer that this system may not be best for you, but it is my favorite process after a few years of tweaking it.
1. I am a manuscript preacher. I highlight key words and color-code my manuscript to make it simpler to follow. Click here to see one of my recent sermon manuscripts.
2. Once I finish my manuscript, I save it in landscape format as both a PDF and Word document. I save it in landscape because I like to have my iPad in landscape on the pulpit.
3. I put all of the files pertaining to one sermon in a note in Evernote.
4. I access my sermon manuscript in Evernote on my iPad, and open it into iBooks. iBooks has clearly become the best option pertaining to simplicity in flipping through pages. If you simply preach from the PDF within Evernote, one accidental swipe can cause you to move from page one to nine in the blink of an eye. iBooks is key to effective page-turning during preaching.
5. I put my iPad on the pulpit before the service ever begins. This may not be something everyone does, but I like to just carry my Bible with me when I walk onto the platform. Furthermore, it's less cumbersome. When I walk up to the pulpit, I simply hit the home button, swipe, and the manuscript is right there.
The people sitting in the congregation cannot tell I'm preaching from an iPad, and I like it that way. I was initially afraid I would appear flashy for preaching from an iPad, but that quickly became a non-issue. I preach from it for the sake of efficiency.
Editor's Note: Do you preach from an iPad in the pulpit? If so, share your experience in the comment section below.