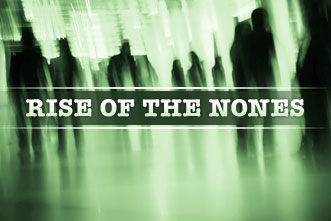 The Pew Forum recently released, and USAToday's ever-vigilant Cathy Grossman reported on, another study I think is helpful for us to understand the context in which we live. In the study, they indicate the number of Americans with no religious affiliation (identified as the "Nones," as in "none of the above") is climbing.
I had the opportunity to look at the data beforehand, and was not particularly shocked by it, though many will likely trumpet this as a huge shift.
It's not. This is simply the natural progression of what is taking place in our context.
A big part of what is happening is that the "Nominals"—and by that I mean nominal mainliners primarily, but nominal evangelicals as well—are shifting and becoming the "Nones." This makes sense, as the cultural currency (in other words, the value a society places on identifying as a Christian) is decreasing. And thus, we see a movement away from Christian identity as a cultural value.
I've written on multiple occasions about how the term "Christian" is used. Most recently I talked about "census Christians" (census Christians are those who, when filling out a form, pick "Christian" rather than "Hindu" or "Jew") and "churchgoing Christians" (churchgoing Christians considering themselves Christians because they occasionally attend a church.) I believe this move is primarily the result of people who are "census" and "churchgoing Christians" shifting to the category of those who don't have any identification at all—the Nones.
Furthermore, I don't think this is all bad.
As I've discussed on The Exchange (see the entire episode here, as well as a short clip here), there is great opportunity in being able to speak with more definition and clarity about what a Christian is and is not.
So, should we be alarmed?