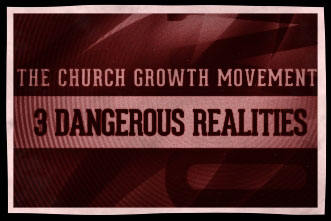 As I continue my series about the Church Growth Movement, I want to look at three ways the Church Growth Movement evolved. As I said previously, it is easy to take issue with something that was birthed in the '60s (Volkswagen vans and the Beatles were not all bad).
But the misapplication of the principles always happens when you get beyond the headwaters of a movement. Although the Church Growth Movement was well-intended, all the results have not been good.
Here are three ways the Church Growth Movement evolved that was not helpful to mission of God in North America.
1. Americanization of the Movement
When the movement became americanized, there were consequences.
Some Church Growth leaders sounded like sales consultants. Some reminded me of the greatest pitchman in history, the late Billy Mayes. I see him swinging his arms passionately, in his blue denim shirt, pitching the power of OxiClean. A money-back guarantee was included, of course.
Some (certainly not all) Church Growth leaders, as with good pitchmen, address a pain point. The pain point that birthed the Church Growth Movement was, "Are you tired of the lack of results at growing your church in spite of your best efforts?" The answer, it appears, was better plans.
To be honest, we Americans are guilty of turning anything good into a business. The Church Growth movement is no exception.
In The Church Between Gospel and Culture, Richard Halverson wrote: "When the Greeks got the gospel they turned it into a philosophy. When the Romans got it they turned it into a government. When the Europeans got it they turned it into a culture. When the Americans got it they turned it into an enterprise."
An unfortunate byproduct of the Church Growth Movement is that growing God's church can be as simple as 1-2-3 with guaranteed results. I call it methodological mania. Some in the Church Growth Movement lost their way when they became more driven by methodological mania than by a central focus on mission.
2. A New Kind of Mission Station Mentality
I have heard the church called a mission outpost in a positive sense. I agree the church is a mission outpost if you are describing a place from which missionaries are sent across the street and around the world.
But McGavran took issue with an approach to the mission of God that resulted in missionary isolationism.