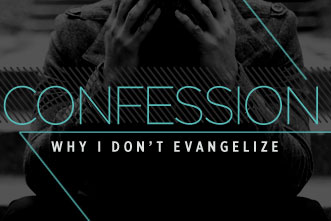 There have been periods of my Christian life where I have, by God's grace, enjoyed fervent zeal toward evangelism.
However, there are other spells of indifference and flat-out negligence. To be honest, I really hate the way this fluxes.
I have tried different things to rev myself up and stimulate faithfulness, but at the end of the day it comes down to two things: 1) my view of God, and 2) my view of others.
My View of God
When I think about evangelism as proclaiming "the excellencies of Him who has called you out of darkness into His marvelous light" (1 Peter 2:9) I begin calibrating my heart with the reality of the message proclaimed.
For in the Gospel, we speak of the most God-exalting truth available, and the most effective truth available; for it (the Gospel) is the power of God for salvation (Rom. 1.16).
I need to spend more time at my Master's feet, learning to pray like a Christian, for it is indeed the instruction of Jesus that his disciples pray with a God-centered zeal, "Hallowed by your name."
Don't Miss
Yes, I must truly want this. I must truly desire to see the name of my God exalted. Lord, make your name hallowed, make it holy, for it is being disregarded, vindicate yourself through the proclamation of the Gospel.
This is good for me spiritually.
It is good to find myself seeing the disparity between my will and my Father's. And it is good to run back to him for a healthy calibration! In evangelism we are proclaiming the glory of God by declaring his excellencies, knowing this brings God pleasure, honor and glory, regardless of whether or not the individual is converted.
My View of Others
On the other hand, I am convicted by my own lack of love for others. This is really an outflow of the first, for if I do not love God rightly how can I love my neighbor?!
So here I am, walking the planet with a pharisaical mindset, ignoring the greatest need for people. What is wrong with me? I can talk to them about the weather, sports, politics, food or whatever, but Jesus? This is not on my tongue.
Why? Why can I walk by the man or woman who has been beaten by the effects of sin and not open my mouth?