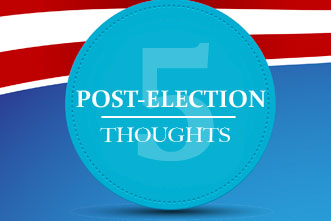 The presidential election is over, and I am sure many, like the little girl who cried "no more Bronco Bamma or Mitt Romney," are breathing a sigh of relief that the season of contention and the barrage of political ads are over for now. Still, we are left to move on as we begin a second term for the 44th President of the United States, President Barack Obama, and it is time for us to consider what that means from this point forward.
Once the election was "called," I prayed for the President again. I asked God to guide him and give him wisdom as I will continue to do for the next four years.
As I said in the Tennessean, I don't endorse specific candidates publicly. As a matter of fact, I gave both campaigns the opportunity to answer questions (see here and here) so that we could be well informed as we went into the voting booths. However, it is no secret that the candidate who was supported by 57% of Protestant pastors did not prevail. Furthermore, it is no secret that most evangelicals did not support President Obama. So, there is a lot of disappointment among many Christians.
So it is appropriate for us to ask the question, "What now?" Well, here are some observations and suggestions:
1. We must face the reality that we may be on the losing side of the culture war.
For decades, the "religious right" has focused its energies on winning the day through political means. But this year, voters in more than one state appear to have clearly passed referenda supporting gay marriage. This marks the first time for any state to legalize same-sex marriage by the expressed will of the people rather than through court rulings or legislation. While this certainly does not mean we should stop legal or political efforts completely, it does mean that we should begin thinking about what it looks like to be the church in a "post-culture war" era. We need to be prepared to defend the protection of religious liberty as we move into the future.
2. The fight for the unborn continues.
This year one of the major political parties, at their national convention, actually celebrated the right to abortion. This is a shift from the posture in years past, when at the very least it was seen as something that we hoped to keep to a minimum. (I mentioned that constant cheering for abortion rights at the DNC.) In fact, that same party actually removed the language from their platform that referred to keeping abortions "safe, legal, and rare." Rod Snyder, of Young Democrats of America, said in our interview that President Obama does believe that we should work to reduce the number of abortions, but still, this development in the party that has secured the highest office in the land is cause for grave concern and even grief. We need to continue to fight for life through education, ministering to women, and promoting orphan care in our churches. President Obama, I am ready to partner with you on the part where we start reducing abortions.