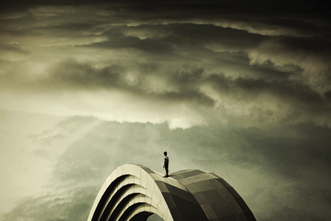 The pastor had just finished giving a powerful message about the necessity of turning from sin and following Jesus. As the altar call was given, several people in the audience were compelled to act on his invitation.
Too many times, at this crucial point, perfectly normal worship services turn into The Phantom of the Opera.
Making Mistakes
For the past 15 years, I've traveled the country speaking at churches, camps and other events. Because I'm an evangelist at heart, I've shared the Gospel in just about every situation imaginable with just about every type of crowd imaginable. Nothing amps me up as seeing people respond to God during an altar call and commit their lives to following Jesus.
Consequently, there is nothing more frustrating to me than seeing someone fall between the cracks at such a pivotal moment because of missed opportunities and careless mistakes.
Unfortunately, there are many potential mistakes that can ruin an altar call and negatively affect a person's decision to follow Christ. Though all of us have made these errors from time to time, the good news is we don't have to ever again! Here are the seven biggest mistakes pastors and church leaders make during altar calls and a few simple ways to correct them.
Mistake #1: Let people stay in their seats.
I know this is going to sound old-fashioned, but the first way to ruin an altar call is to let people remain in their seats during the time of commitment. Sure, we might ask them to raise their hands or instruct them to pray in their seats but what we're really doing is allowing them to remain anonymous. If we don't make them move, we can't counsel them, pray with them or follow up with them.
That's not good.
Looking at Scripture, it appears as though Jesus' version of an altar call was to say, "Follow Me." Peter and Andrew weren't allowed to stay in their fishing boats; Matthew was not allowed to stay in his tax-collecting booth. Jesus made His would-be followers move. We need to do the same. We can't let them stay in the pews.
By the way, if they're honest, some pastors will admit they don't ask people to move because they're afraid no one will. They want to avoid the embarrassment of having no one respond, so they remove accountability in the name of making it easy to become a Christian. What these pastors really need to remove is their egos. Then they can preach boldly and biblically, trusting God for transformation.
Now that we've addressed the first way to ruin an altar call—not making people move—let's look at the second best way to ruin an altar call: Making people move to the wrong place.
Mistake #2: Make people do business with God in front of everybody.
We conduct financial business with our banker privately. We do health checkups with our doctor privately. So why do we insist on making people do their spiritual business with a pastor publicly? This is the most important decision people ever will make, so why force them to do it in front of hundreds of people, many of whom are strangers?