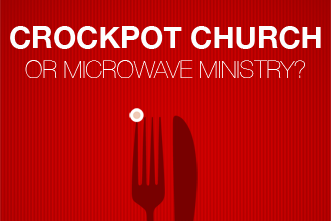 A few weeks ago, The Lord called our microwave home. It had fought a good fight and finished its course and now resides in that great kitchen in the sky.
Of course, this gave my wife the perfect opportunity to remind me microwaves are bad for your health and she didn't want to have one in the house in the first place. (The CSI team is currently investigating her involvement in the microwave's death. Foul play is suspected.)
Instead of running out to purchase a new microwave, we've been trying to make it without one. As someone who was raised in the "microwave generation," the transition has been a bit difficult for me (to say the least). However, I've learned how to warm up my leftovers on the stove or oven, and have even become reacquainted with my old friend, Mr. Crock-Pot.
As I've been enjoying the succulent, juicy meats coming out of my Crock-Pot (as opposed to the crusty, dry stuff we pulled out of that square box with buttons on it), I realized the comparison between microwaves and Crock-Pots can teach us a lot about ministry and church growth.
Specifically, do you want to have a "Microwave Ministry" or a "Crock-Pot Church"?
Microwaves are good for a lot of things, chiefly convenience.
It's so much easier to grab those leftovers out of the fridge, nuke them and have a hot meal in three minutes. However, the microwave also has several drawbacks, which I believe can serve as a teaching tool for ministry.
Here are five reasons I believe we should seek to be a "Crock-Pot Church" instead of a "Microwave Ministry."
1. Microwaves don't cook anything.
Microwaves don't cook or create; they just reheat.
Similarly, a "Microwave Ministry" is one that is not intentional about creating new disciples. It is content with "reheating" old Christians who have become dissatisfied with their former church or pastor. Microwave Ministries are built on the backs of "leftover" church-hoppers looking for a quick fix.
On the other hand, crockpots are designed to create new meals, and Crock-Pot Churches are intentional about reaching the unchurched and creating new disciples for the Kingdom of God.
2. Microwaves heat fast, but don't hold heat for long.
It may only take a microwave three minutes to heat a plate of food, but you better eat that food quickly because it won't stay hot for long.
Similarly, Microwave Ministries may burn hot and fast in the beginning, but they lack the sustainability for long-term growth and health.
Crock-Pot Churches, however, are able to sustain their heat for a long period of time. While it may take them longer to heat up initially, they don't go cold all of a sudden.
Microwaves measure time in minutes and seconds; crockpots measure in hours. There is no "one-minute" button on a Crock-Pot. They are designed for the long term—and so are Crock-Pot Churches.