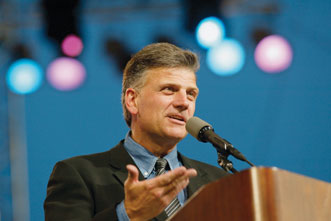 In a public letter last week, Franklin Graham of the Billy Graham Evangelistic Association called America "sin-sickened" and must repent, saying that the country's "fiscal cliff" is "nothing compared to the spiritual and moral cliff that is far more destructive to our nation than any economic concerns."
As reported by The Christian Post, Graham used the results of the November election as an example of the country's morality dive, including the legalization of same-sex marriage in three states and the approval of recreational use of marijuana in two states.
"These are indeed dark days … but there is hope," Graham said. "No question our country's foundations are being destroyed, but I am reminded of an era in the Old Testament where the Lord moved in a dramatic way to bring godly change to a spiritually dark and depraved nation like Judah, whose moral foundations had been seriously eroded."
"For far too long, as a nation we have neglected-and even rejected-the Word of God and His commands. Yet the Scriptures are mighty, able to penetrate even the most hardened and darkened hearts with convicting, life-giving power," he said. "They are God-breathed, and any new season of repentance and revival in America can only come through a renewed focus on the great truths of God's Word.
"Just as the Lord used an 18-year-old king to begin revival in a corrupt nation more than 1,500 years ago, He can use us as we earnestly seek Him, stand for His truths, and pray for America. This is the only cure for a sin-sickened country that is about to slip into a moral abyss, and it is why we must proclaim the Good News."