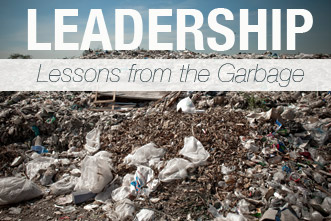 It may be strange to hear, but I absolutely love my residential garbage service. When I moved to Nashville more than seven years ago, I asked my neighbors to recommend a service. Their recommendations were so effusive that you might have thought they were talking about a beloved physician.
Nope. They were excited about their garbage service. And now, seven years later, I fully understand. This family-owned company is called Music City Disposal. It's located in Franklin, Tenn., a southern suburb of Nashville.
The first time I called Music City Disposal to begin my service, the wife of the owner greeted me. Her pleasant disposition was but a foretaste to the great service I would receive over the next seven years.
Indeed, the workers in this small company have taught me several lessons on leadership. I'll share a few.
1. Put others before self.
When I ask for some extra help from the folks at Music City Disposal, they never act like they are being inconvenienced. To the contrary, they always seem happy to help.
2. Have a healthy work ethic.
Many of us may not be attracted to hauling garbage in all kinds of weather. But this company never misses a day. They are as dependable as any organization I have ever known. They are some of the hardest workers you'll ever see.
3. Do something extra for someone.
In 2010 many homes in our neighborhood were partially underwater from the biggest flood our city has ever known. When we were permitted to return to our homes to begin the arduous cleaning process, guess who was there on their own initiative? That's right, the folks at Music City Disposal pulled in my driveway and asked, "Mr. Rainer, can we haul something away for you?"
4. View your work as a gift.
Some people whine about their work. Good leaders are grateful for their work. Think of all the possible complaints a garbage hauler could have. I have never heard anything but positive words from Music City Disposal about their business.
5. Maintain a pleasant disposition and smile a lot.
It's amazing how contagious smiling and happiness can be. I know one of the reasons my garbage service is so successful is that their disposition attracts and keeps customers.