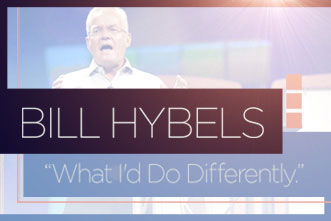 The suburban Chicago church plant, launched by a 22-year-old Bill Hybels back in 1975, would dramatically impact the face of American Christianity. What later became one of the nation's first megachurches, which now draws some 25,000 worshippers each week, Willow Creek Community Church began in a closed-on-Sunday-morning movie theater and was mostly staffed by teenaged volunteers passionate for Jesus Christ. As Willow grew, sharing what it learned with other churches became one of its highest priorities.
In this interview featured in the new Exponential Resources Series free eBook MOVE for Church Planters: What Willow Creek and 1,000 Churches Reveal About Spiritual Growth by Cally Parkinson and Greg Hawkins, Hybels shares what he has learned in 37 years of ministry; how his experience might impact his actions were he planting a church today; and what advice he would most like to share with those whose passion is to share the good news of Jesus Christ with unchurched people in a relevant, compelling and successful way.
Welcome to that conversation.
Before we start talking about what you might do the same and differently if you were planting a church today, let's talk a little about our current environment. What societal factors have changed in the past 40 years that would impact your decisions today?
Bill Hybels: I think there's even more resistance/cynicism to the idea of the institutionalized church now than there was then. And I think that's the result of all of the skepticism created as too many well-known pastors—and even some denominations—have broken trust. People who are starting a church today have to present an even stronger argument than we did in the mid-'70s for Why another church?
So I would spend a lot of time coming up with the rationale for why would I be starting another church. What's going to be different? What's going to keep it from becoming like these others? That would be very important, because I think there's a general feeling that there are already enough churches.
In short, if you are going to launch a new church, you have to start with a white-hot, differentiated, compelling vision, or why take up more real estate?
With this current environment in mind, can you give us an example of what worked well in your church plant 37 years ago that you would duplicate if you were planting a church today?
Bill Hybels: One thing I really got right is that I started Willow with my friends. The founders are still with me today, and we're still best of friends. I had an incredible team of proven people around me, and we had established a loving and joyful community before we held our first service. That I did right, by the grace of God. So if I were starting fresh, the minute I felt I had clarity on the vision for starting a new church, I would present that vision to close, trusted friends who I wanted to come along with me on this adventure.
Do you have an example of something you would do very differently?
Bill Hybels: Something that I didn't do well—and this is a common problem all across the world—was to adequately capitalize our ministry. Therefore, the financial pressures were terribly destructive to the life of our church for the first five years. And it didn't have to be that way. Most church planters and church planting organizations these days say you've got to raise X amount of money, so you're sure people can survive—like, making sure your rent payment can be made.