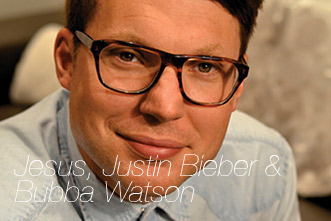 What's it like to be Justin Bieber's pastor? Well, there's only one person who knows that answer: Judah Smith.
In this interview with Judah, the lead pastor of the City Church in Seattle, Wash., we discuss what it means to have an open discussion about Jesus, why being a "busy" pastor isn't a good thing and the challenges and opportunities of pastoring high-profile people like Justin Bieber and Bubba Watson.
***
Last year City Church decided to do an experiment by creating an open conversation around Jesus. The creative team at City Church designed a website that simply asked people to fill in the blank, "Jesus is _______." The feedback you received was overwhelming — from porn stars to atheists to everyday broken people. As a follow up, you just released your new book, Jesus Is ______, to help direct people beyond "the Jesus that somber paintings and hymns fail to capture" to the real Savior we find in the Scriptures. Were you surprised by the feedback you received from the "Jesus is ______" project?
I don't know if surprised is the best word, only because after living in Seattle for while, not a lot surprises you anymore. We live in a pretty wild environment as it is, but I think what I was probably most surprised about was that people engaged. Obviously, God haters, which you understand, they get on the site and want to make their point, but even really broken people — clearly broken people — shared their thoughts: "Jesus never did this" or "Jesus never helped me," "Jesus is never around," "Jesus is never listening," "Jesus is not Who I thought He was…" They were clearly people who were hurting, people who have probably been misled by religious fanaticism. The fact that they would take the time … I thought, Wow, this is amazing that people still care enough about Jesus to voice their hurt, their pain.
Overall, my take-away was that people want to talk about Jesus, and people want answers. People want help. Oftentimes we think society is so anti-God and wants nothing to do with Jesus. I actually see it exactly the opposite. I think He's the most engaging Person who's ever lived, and of course, He is the Savior of the world.
In the book you cover many different aspects of Jesus — one chapter is titled, "Jesus is happy." Could you unpack that a little?
Sense of humor, laughter, these things are all reflective of the beauty and character of our God. So if you think for a moment that Jesus was not full of joy … the Scripture makes it abundantly clear that He was anointed with the oil of joy above His companions. In other words, He was happier than anybody around. It's pretty amazing. I always encourage our staff in Seattle to keep a sense of humor. The weight of the world is not on your shoulders. That would be Jesus, and yet, Jesus, with literally the weight of the world on His shoulders, had time for good food, had time for fellowship, had time for prayer, and no doubt had time for laughter and relationship. What an awesome example for each and every one of us.
Obviously, nobody wants to hang out with the mean guy, the guy who's stressed and busy. I think even though Jesus was consumed with His mission, He was not stressed and busy like so many of us are. Nobody wants to be raised by the busy dad; nobody wants to be pastored by the busy pastor. Nobody wants to be friends with the busy guy. I don't want to be that guy. Jesus was obviously the ultimate example.
I think it's difficult for some of us to open up honest dialogue about Jesus with our unsaved friends. It's uncomfortable for us to listen instead of talk. How would you encourage church leaders to create larger, more open conversations with the unchurched about Jesus?