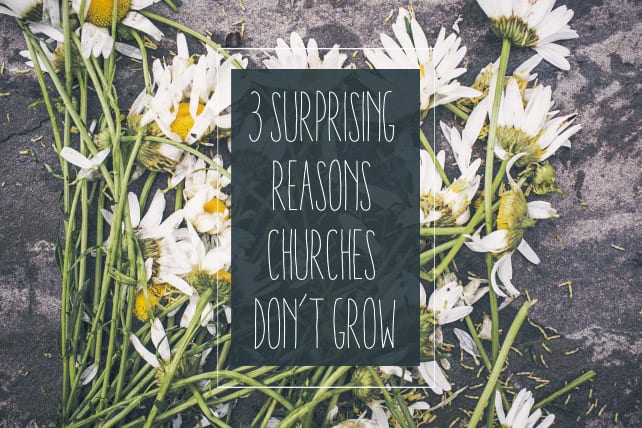 Don't worry. There's nothing wrong.
Your vision might be clear.
You've got a good sense of what the community needs and aren't overwhelming everyone with programs.
You and the entire congregation are praying fervently.
You're passionate about reaching people and equally passionate about the gospel.
As far as you can tell, you're faithfully proclaiming the Word and living in light of it…and yet your church isn't growing.
What's going on?
Reading some pastors' thoughts about church growth, you'd think that if your church isn't growing it's because (despite your protestations) you must have some secret sin causing God to withhold His blessing. It's the same game Job's friends played, where instead of comforting him, they accused him of disobedience to God.
And yet.
What's the deal? Is a church's lack of growth a result of some unspoken sin on the leadership's part? Is numerical growth always a sign of God's blessing upon a local church?
I'm not so sure.
There seems to be a lot of pressure for pastors to have "successful" ministries—and by successful, what's really meant is to have big numbers.
While numbers are not wrong (they can be very good, in fact), we've got to be careful about how we think about church growth, and what it means to be successful as a church. And while I don't entirely disagree with the points raised in the link above, they're incomplete.
There are at least three other crucial factors that need to be considered when asking why some churches don't grow:
1. "Soil" conditions.
You might be doing all the "right" things and have the right attitude, but nothing's happening (at least not the way the experts tell you it should). We would be wise to remember Jesus' words in Luke 8:4-15:
And when a great crowd was gathering and people from town after town came to him, he said in a parable,
"A sower went out to sow his seed. And as he sowed, some fell along the path and was trampled underfoot, and the birds of the air devoured it. And some fell on the rock, and as it grew up, it withered away, because it had no moisture. And some fell among thorns, and the thorns grew up with it and choked it. And some fell into good soil and grew and yielded a hundredfold." As he said these things, he called out, "He who has ears to hear, let him hear" …
The seed is the word of God. The ones along the path are those who have heard; then the devil comes and takes away the word from their hearts, so that they may not believe and be saved. And the ones on the rock are those who, when they hear the word, receive it with joy. But these have no root; they believe for a while, and in times of testing fall away. And as for what fell among the thorns, they are those who hear, but as they go on their way they are choked by the cares and riches and pleasures of life, and their fruit does not mature.
As for that in the good soil, they are those who, hearing the word, hold it fast in an honest and good heart, and bear fruit with patience (emphasis added).