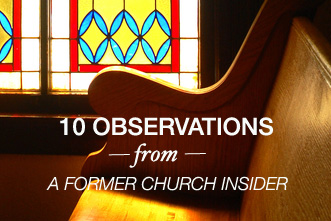 I didn't grow up in church.
It wasn't until I was assaulted in high school and required several spinal surgeries that I even knew I needed God. But from 1996-2011, from the time I was 16 until I was 31, church was CENTRAL to my life personally and professionally. I became a church insider almost instantly. Here is a bit of my church history…
At the age of 16 I was baptized @ Antioch Baptist Church in Lexington, KY by my best friends dad, Willis Polk
At the age of 17 I was licensed to preach by Willis Polk at his new church, Imani Baptist Church
At the age of 17 I moved to Atlanta. My first mentor in Atlanta was Howard Creecy, the chaplain of the city of Atlanta and pastor of an urban church – St. Peter Baptist Church.
At the age of 18 I decided I wanted to be like a man named Dr. Aaron Parker. I revered this dude. He was a religion professor @ Morehouse College and a local pastor of Zion Hill Baptist Church.
At the age of 18 I started preaching all over the country and became active @ Zion Hill Baptist Church
At the age of 22 I visited Union Theological Seminary in NYC and thought long and hard about going there for my Master of Divinity.
At the age of 23 I started attending Total Grace Christian Center after several friends of mine from Morehouse and Spelman insisted it was an amazing place. The pastor, Johnathan Alvarado, whom I have since spoken out against very strongly, was actually great to me during most of time there and put me on the fast track to leadership. I was ordained as a pastor by him, became his personal assistant, and eventually helped launch a new campus of the church.
At the age of 25 I was approved and trained by the Evangelical Covenant Church denomination to become a church planter.
At the age of 28 I was approved and trained by ARC (Association of Related Churches) to become a church planter.
At the age of 29 I launched Courageous Church in downtown Atlanta. I thought I'd pastor there forever. It sounds crazy to me now, but I loved that church and the people. I'd do so many things differently if I could do it all over again. We had something special there.
In 2011 I stepped down from my role as Pastor of Courageous Church. Man that hurt.
———
In the nearly 2 years since then I've visited a lot of churches with my family.
We've visited churches we've heard about for years, places we just learned about on the fly, we've sat in the balcony and down front, we've been to churches of all cultures and backgrounds, we've tried out all of the children's ministries, we've seen church every way you can make it in America.