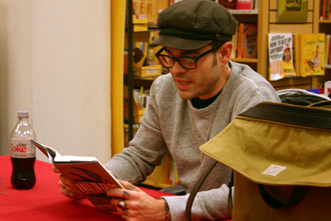 The Minneapolis Star-Tribune this week told the story of Jay Bakker, son of famous evangelists Jim and Tammy Faye Bakker, who plans to start his own church in a Minneapolis bar, a move that reflects the growing emergent church movement in the city.
The younger Bakker, 37, whose tattoos, piercings and black leather clothing are only the beginning of his differences from his traditional evangelical parents, told the Star-Tribune that he was disillusioned by his parents' ministry and public fall from grace in the 80s. After a period of rebellion, he and some friends formed one of the first emerging churches in the country: Revolution Church in Arizona. He currently pastors a Revolution campus in New York, also meeting in a bar, which he will continue to oversee as he begins the new work in Minneapolis.
Bakker, according to the article, is more liberal than traditional on social issues and is a strong supporter of gay rights.
"In Minneapolis, I've seen so many intellectual believers," Bakker said. "People are open-minded. I'm excited to dive into that and see more of that in the city."
Tony Jones, a theologian at Solomon's Porch, an emerging church in south Minneapolis, says Bakker's brand of Christianity will work in the Twin Cities.
"Jay has had every reason to leave the church," Jones said. "He has every reason in the world to quit Christianity, to never look back. But he has come back. He was the prodigal son. He dropped out of high school, he got into all sorts of drugs and alcohol, got a lot of those tattoos during his sojourn away from Christianity. But I think he just couldn't ignore the calling in his life."
Bakker keeps in touch with his father, who now lives and leads a church in Branson, Missouri. In Bakker's latest book, Faith, Doubt, and Other Lines I've Crossed, he writes about his doubts about the existence of God and where he is now on his faith journey. "Doubt is something that needs to be embraced with faith, because doubt is an element of faith," Bakker said. "Faith is not fact. It's like hope. My faith was gone and I didn't know what to do … and [when it came back] what happened was my faith became bigger. To me it's mind-boggling and beautiful, and I can't even begin to know what it is."