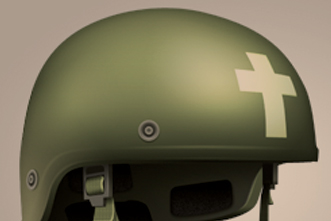 According to The Christian Post and other outlets, religious liberty groups are very concerned that the Pentagon is reviewing its religious tolerance regulations with an atheist group that compares Christian evangelism to "spiritual rape." The Military Religious Freedom Foundation, led by president Mikey Weinstein, is advising the U.S. Air Force that troops, including chaplains, who share their faith are guilty of sedition and treason and should face a court martial.
Weinstein told Fox News that the military must stop allowing the "unconstitutional religious proselytizing and oppression," calling it "horrible, horrendous, dehumanizing behavior." In The Washington Post, Weinstein also called proselytizing "a national security threat" and those who take part in it are "enemies of the Constitution."
Pentagon officials met with members of Weinstein's group last week to discuss the Air Force's policy. The section of the policy in question reads, "Leaders at all levels must balance constitutional protections for an individual's free exercise of religion or other personal beliefs and the constitutional prohibition against governmental establishment of religion."
Executive director of the Chaplain Alliance for Religious Liberty Ron Crews commented with concern that "saying that a service member cannot speak of his faith is like telling a service member he cannot talk about his spouse or children."
"I do not think the Air Force wants to ban personnel from protected religious speech," Crews continued. "And I certainly hope that it is willing to listen to the numerous individuals and groups who protect military religious liberty without demonizing service members."
Family Research Council president Tony Perkins questions why the Pentagon is taking advice from what he called "one of the most rabid atheists in America."
"That's like consulting with China on how to improve human rights," added Perkins.
Ina report from Breitbart.com, FRC executive vice president said this week, "It's a matter of what do they mean by 'proselytizing.' … I think they've got their defintions a little confused. If you're talking about coercion that's one thing, but if you're talking about the free exercise of our faith as individual soldiers, sailors, airmen and Marines, especially for the chaplains, [then] I think the worst thing we can do is stop the ability for a soldier to be able to exercise his faith."
The FRC has developed a petition to Secretary of Defense Chuck Hagel urging the Pentagon not to develop religious freedom policy with radical secularists nor to punish military personnel who speak of their faith as "enemies of the state" but rather protect their religious freedoms. "If chaplains and other personnel are censored from offering the full solace of the Gospel, there is no religious freedom in the military," the FRC site reads.
At the time of this writing, more than 110,000 signatures have been collected on the FRC petition.