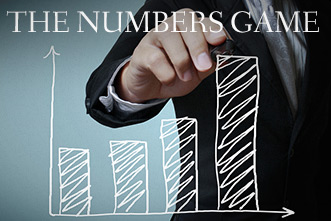 The climate of ministry is changing and, for most church leaders, the expectation for results has never been greater.
As many feel the added pressure of making the right decision with little forgiveness for making the wrong decision, there are two different paths we can take:
We can continue to go with our gut or we can play the numbers game.
As attendance and budgets have fluctuated considerably over the past few years, the demand has increased for church leaders to understand and use numbers as a way to challenge or validate ministry decisions.
Now more than ever, numbers matter.
Yet you didn't get into ministry to look at spreadsheets or to become a data analysis expert. No one expects that.
But as an executive leader in your church, it's important to know exactly what numbers matter and what to do with those numbers once you've gathered them.
Playing the numbers game keeps the focus on the life change that should naturally result from our ministry investments of time, talent and resources.
What numbers matter?
Numbers will help you in numerous ways, such as effective planning, decision making and prioritizing. Therefore, it's important to know what numbers matter when it comes to measuring the effectiveness of your ministry.
Here are the nine different areas of ministry, that when measured and tracked, offer you valuable intelligence about the health and vitality of your church's community-building efforts.
1. Attendance
2. Volunteers
3. Missional Participation
4. Online Activity
5. Financial Giving
6. Event Outcomes
7. Assimilation
8. Growth
9. Attrition
If you're not playing the numbers game and measuring these areas of ministry, you're not making the most of the information and resources available to you.