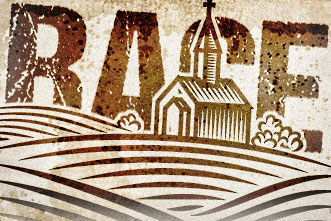 This blog is co-authored by Derwin Gray and Frank Viola.
The Zimmerman trial and the tragedy that surrounds it has captured the world's attention. Including that of the body of Christ.
Media coverage has heightened passions on both ends. Conversations about race, law, injustice, prejudice, guns, etc. are all being argued and inflamed.
In this article, we don't want to weigh in on the public debate. Instead, our passion is to encourage God's people everywhere to transcend the debate that the world is holding on its own terms by seeing ethnicity through the eyes of our Lord. There is only one race, the human race, which is comprised of different ethnic groups (Acts 17:26).
We want you, dear Christian, to take your cue from the New Testament believers, for they can teach us a great deal about this subject.
A Walk Into the First-Century Church.
The world of the first century was littered with racism and oppression. In the mind of a first-century Jew, Gentiles (Africans, Romans, Greeks, Syrians, Asians, etc.) were created to fuel the fires of hell.
When a Jew called a Gentile "uncircumcised," he spit it. It was a name of profound contempt.
If a Jewish person married a Gentile, the Jewish parents held a funeral service for their child. In their eyes, their child was dead.
On the flip side, Gentiles regarded Jews to be subhuman. Historically, the Jews have been an oppressed people, living under the thumb of one Gentile nation after another (e.g., Egypt, Assyria, Babylon, Greece, Rome).
In all of human history, there has never been so much animosity, hatred and violence between two groups of people as there has been between the Jew and the Gentile.
But alas, in the first century, there emerged a group of people on the planet who transcended this racial hostility.
Here was a group of people who saw themselves as members of the same family … a people made up of Jews, Gentiles, slaves, free, rich, poor, male and female.
These were the early Christians. The Roman world stood in awe as they saw a people who hated each other begin to love one another and do life together in the Name of Jesus.
Watch them walking into the market place together, arm in arm, singing with joy in their hearts.
Jew and Gentile.
Slave and free.
Rich and poor.
Male and female.
Look at them closely.