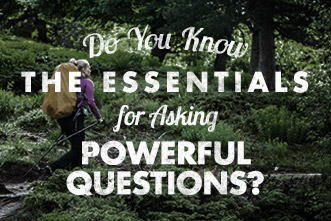 "It is not the answer that enlightens, but the question." —Eugene Ionesco
One of the core traits of transformational leaders is their capacity to ask truly powerful questions.
Asking just the right question at the right time with a person or a group can shatter obstacles, open the way to clarity, and transform problems into possibilities.
But what makes a question powerful?
My first experience with a powerful question came on the first day of my training as a coach over 10 years ago. We had barely gotten settled in our chairs when the course leader called me up to the front of the room, sat me down beside her, smiled a warm mischievous smile, and asked: Michael, what fulfills you?
No one had ever asked me that question before. But in that moment, that simple question opened a door in my heart that has revolutionized my walk with Christ, clarified my calling in the world, and forever changed the course of my life.
Henri Nouwen once wrote this about the power of questions:
"Which questions guide our lives? Which questions do we make our own? Which questions deserve our undivided and full personal commitment? Finding the right questions is crucial to finding the right answers."
So what does make a question powerful?
And how do you find just the "right" question to help others (or even yourself) break through a barrier, uncover a new understanding, or take their life to the next level?
Questions are a bit like river guides on a rafting expedition. They direct the path the conversation takes, guiding the other person to paddle in one direction or another. It's important to realize that every question you ask in a conversation sends the other person somewhere to look for the answer.
Through your questions, you can send people to their head to analyze data or retrieve facts, or you can send them to their emotions to reflect on what they are feeling. You can even send them into their body to listen to what it is saying to them about their current state. But the most powerful questions tend to be those that take people into their heart … into their soul.
Here are four essential traits of a powerful question: