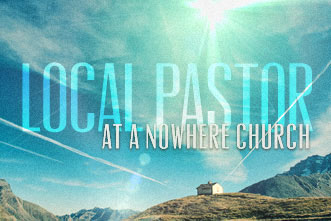 Someone once told me:
"You're just a little local pastor at a tiny nowhere church—what do YOU know?"
I wish I could tell you I recovered quickly from this one and made all kinds of God-declarations like, "He uses the smallest of us in ways we can't see," and that I remembered I was uniquely handcrafted by God to serve my corner of the universe.
But I didn't do this. I was devastated.
I believed what the guy said over what God says.
A little local pastor at a tiny nowhere church. So what do I know?
The guy was right.
The truth is, I really am a nobody pastor at a tiny nowhere church. I've hardly preached to a crowd of over 100. I have a modest little podcast and this blog with a few followers, and that's it. I really don't know much.
Do you know who else feels this way?
Well, pretty much everyone.
It's easy to feel like you're the only guy that God has overlooked, that somehow God can't see you, that He's not opening doors for you, that He's not giving you the "big break."
I'm guessing the megachurch pastor down the street is choked by the same insecurities. He might have a larger scale—"I haven't even published a book yet, we only had 800 people last week"—but I can guarantee he's struggling with the same self-condemning loop in his head.
Your Sunday service could've been drowned in musical failures, sermon misfires and the ordinary small-town drama. A Bible study didn't land and the kid's service was a trainwreck.
You're not sure if anyone else is growing, including yourself.