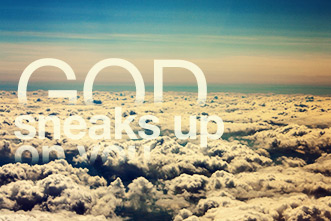 Have you ever noticed that there are days that you like sneaking up on people? I actually noticed that about myself this past week. Twice in the same day, I was given the perfect opportunity to scare the snot out of folk. And I did. Of course, it was exhilarating to me. Not so much for them.
Sometimes, I think God sneaks up on us.
At least I know He does me. I recently began a new series at our church. Our team decided we would brand the series "Risky Life." We opened the series just two weeks ago. You can catch the opening talk on Vimeo here.
During the first talk, there was something unique going on with myself and the audience.
Most of us were captivated in the content and challenged by the message. It was then I realized this was not going to be a normal series. I began to feel like God was sneaking up on me.
The following week, fresh ideas began to formulate. We also decided to expand the series a few weeks. I began to meditate on how I could model living a risky Christian life. My thoughts by no means are equal to the risk of Christians suffering persecution around the world or those taking risks like sky jumping.
My ideas were risky in regard to sharing my faith and getting outside of my routine.
My first thought was to create something risky. So I decided to schedule a risky lunch with a random person. My plan was to buy them an exquisite lunch and allow them to share their life, and then I would share the gospel.
I cannot tell you how excited I was.
Here is the result of that lunch. I posted it on my Facebook page this week.
Well, my risky lunch was truly a blessing. God truly orders our steps. My new friend was homeless, but had a greater need.
He said not having a home was not his greatest need. I need to regain my faith!
I took him to his choice of restaurants and enjoyed a conversation about his life, family and his faith. As we finished our lunch, I asked him if I could do something else for him. He said: "I need a pair of shoes."
This rocked my soul.