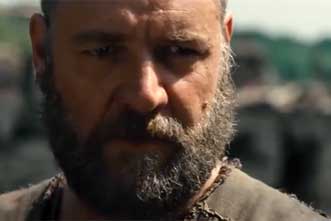 Paramount Pictures took the unusual step this week of revealing internal studio research saying the majority of the faithful are interested in seeing their upcoming film Noah, starring Russell Crowe and featuring Anthony Hopkins and Emma Watson. According to The Hollywood Reporter, Paramount "strongly disputed" an article from Variety.com claiming that most of the faithful were generally not satisfied with Hollywood-produced biblically themed movies, which then moved to the generalization that these same faithful were unhappy with the upcoming Noah film.
"The survey question … did not contain any reference to the film Noah, despite the fact that the Variety reporting implied that it did," the studio said in a statement. Further, "research from industry-leading firms about the upcoming epic paints a very different picture."
Paramount then cited measurements from established Hollywood tracking firms National Research Group and the Barna Group that show strong interest in the Darren Aronofsky film, which hits theaters March 28.
"Nielsen's National Research Group (NRG), the industry's decades-long standard for measuring prerelease tracking of feature films (and other entertainment offerings), is tracking Noahand has gauged, with still six weeks to go before the film's release and from self-defined 'very religious' moviegoers, that 83 percent of those aware of Noah in the prerelease tracking have expressed interest in seeing the film," Paramount said in the release. The studio also cited data from a survey by the Barna Group stating that 86 percent of Christian respondents who are aware of the film said they would recommend Noahto their friends. Paramount execs also quoted Barna president David Kinnaman, who said, "On our survey conducted over Feb. 13 through Feb. 15, we found the majority of pastors would recommend that people see the film Noah."