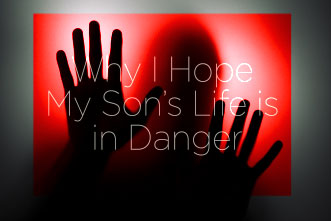 My son believed God's Word when he heard it preached from 2 Thessalonians. Like most of us, some things he forgets, some things lodge themselves deep in his soul where they germinate over time, and some things arrest his imagination so that he can't think about anything else.
If for some reason the pastor mentioned volcanoes, for example, he would think about that. If the pastor mentioned a bad guy, he would think about that.
This Sunday, there was a bad guy in the text. My son Carson heard it, his imagination went to work and his response made God's harder promises more real to our family.
The Antichrist is scary.
Kristi was making dinner, the girls were hollering in play, I was setting the table and that's when Carson asked, "Is Satan going to send a man to kill us?"
An ordinary moment just became one of the most important moments in the life of my son.
Carson was talking about the man he heard about in 2 Thessalonians 2:3-10), and in Revelation he's pictured as a beast (Revelation 13).
My son was about to find out what it really means to be a Christian.
"Yes, son. Satan hates Jesus Christ, and he hates the people who belong to him. He is always scheming, and the Bible says that one day he will send a man to deceive many and destroy others who refuse to turn."
I planned to continue with true and happy promises but was cut off when Carson started wailing. He didn't want to die, and I could understand. I told Kristi to start dinner with the girls.
I took Carson into my office to talk about Jesus' cross and about ours.
Jesus has strong breath.
By the time we sat down to talk, Carson was already on a fix. He wasn't the first with this idea, and he wouldn't be the last.
With urgency, he made his proposal: "What if we tell the man that we don't believe in Jesus? What if we trick the man?"
Creative? Yes.
Honoring to Jesus Christ?
He agreed, no.