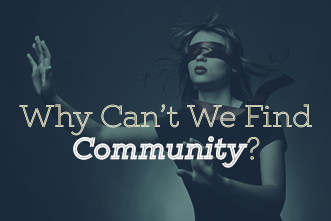 Our modern search for community includes thousands of questions:
Where can I go to find a place where I am loved?
Whom do I know?
Whom am I comfortable with?
How can the church be a real community and not just a social club?
Instinctively, we know what makes for a good community: a safe place where I am included, where I am known and loved, and I in turn know and love others. There is much beauty in this desire for intimacy.
But it can sometimes be just a veiled request for feeling good.
Once we discover that other people are deeply flawed, we often pull back, thinking everything is wrong.
When feelings are the standard, we are left adrift on a turbulent sea. Every good feeling becomes a new path, so we become good at starting to love, but bad at finishing.
But intimacy comes from steadfast love.
Yes, it is good to be in a place where we are welcomed and known.
But making that quest central is idolatry. And like all idolatry, it ultimately disappoints. Our desperate search for perfect community leaves us critical and, eventually, solitary.
The problem with community.
The problem is, we don't find community; we create it.
We can't get at intimacy and community directly—they come from love.
There's nothing wrong with asking yourself whom you feel comfortable with, but consider the questions Jesus asked:
Whom can I love?
Who is wounded?
Who is left out?
Jesus was proactive in creating inclusive communities. There was no other way.
At one dinner party, Jesus told the host that he had invited all the wrong people: