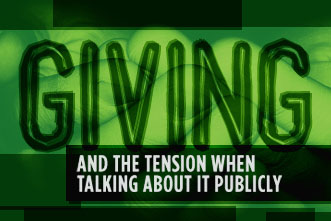 I've seen a theme pop up again and again over the last several years when it comes to talking about giving, one that typically presents itself in one of two ways:
1. From those trying to motivate Christians into giving more: "Statistics show Christians are not generous! If they just gave X percent more, we could [meet budget/fund a church plant/end poverty/build a castle for the pastor/etc.]."
2. From revisionists who try to deflect inquiries and arguments from orthodox Christians: "If these so-called orthodox evangelicals spent half as much time caring for the poor and needy in the world as they do fighting about abortion and homosexuality, the world would be a better place."
Notice the common theme:
You're not doing enough, you've got the wrong priorities and you need to do more.
Now, of course, with all generalizations, there's a nugget of truth. Some Christians almost certainly are of an ungenerous disposition. Generally speaking, though, those are nominal believers and/or false converts (see what I did there?).
Generosity is a natural byproduct of the gospel (see Acts 2:42-47; 2 Cor. 9:6-15). If one has truly experienced the grace of God, they can't help but be generous.
But not everyone who is generous is so because God's grace in Christ has been at work in their lives. Some are generous simply because they want to be seen as generous. The classic example, of course, comes from Jesus' parable of the Pharisee and the Tax Collector:
He also told this parable to some who trusted in themselves that they were righteous, and treated others with contempt: "Two men went up into the temple to pray, one a Pharisee and the other a tax collector. The Pharisee, standing by himself, prayed thus: 'God, I thank you that I am not like other men, extortioners, unjust, adulterers, or even like this tax collector. I fast twice a week; I give tithes of all that I get.' But the tax collector, standing far off, would not even lift up his eyes to heaven, but beat his breast, saying, 'God, be merciful to me, a sinner!' I tell you, this man went down to his house justified, rather than the other. For everyone who exalts himself will be humbled, but the one who humbles himself will be exalted." (Luke 18:9-14)
Read that carefully and pay careful attention to the words of the Pharisee's prayer: "I fast twice a week; I give tithes of all that I get." This is his spiritual resume. He's sharing this ostenibly with God, but more likely boasting to all those who are within earshot. It's the same hypocrisy Jesus condemned in the Sermon on the Mount in Matthew 6:2-4:
Thus, when you give to the needy, sound no trumpet before you, as the hypocrites do in the synagogues and in the streets that they may be praised by others. Truly, I say to you, they have received their reward. But when you give to the needy, do not let your left hand know what your right hand is doing, so that your giving may be in secret. And your Father who sees in secret will reward you.
The proud—the hypocrites, as Jesus calls them—need to be seen as generous by others. They need to be seen as "world-changers," activists, poverty-warriors or just the most generous family in the church. And so their checks are accompanied by a big show.
But Jesus, in contrast, emphasizes a sanctified kind of secrecy. The humble don't need to boast about what they give to their church, to missions or to relief organizations. Their reward comes from their Father.