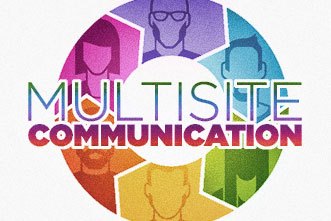 Communication is challenging in any church or organization.
It's especially challenging in the matrixed organizational system of a multisite church, which has lines of communication and accountability running vertically from top to bottom—from senior leadership down to the campuses—and horizontally across ministries. Things are further complicated by the geographic distance separating campuses and team members.
To those of us doing multisite church, these communication challenges create daily frustrations.
How can we keep communication strong and team relationships healthy in a multisite church? Here are four key actions that make all the difference. (I'm indebted to Jamus Edwards for sharing his insights in an article in the Winter 2014 issue of The Great Commission Research Journal. My points are similar, though a little different than his.)
1. Clarify responsibilities and authority.
Role clarity is pivotal in a multisite church. Different campuses have different needs, different settings and leaders with diverse gifts in campus-pastor and ministry-director roles.
It's pivotal that people know what their assignments are, what they cannot change and where they can be creative. Clear job descriptions, well-defined accountability lines, and consistent reporting and feedback systems remove ambiguity and empower people to excel within the church's given vision and values. (You can find some of our church's job descriptions by clicking here.)
Where things are ambiguous in your system? Where does your church need greater clarity and better two-way reporting?
2. Build authentic, in-person communication into your system.
Today we have amazing 21st-century technologies that help us connect and span the miles that separate us. Tools like GoToMeeting, Skype and FaceTime help teams and individuals meet digitally when we can't meet in person.
At the same time, the kind of teamwork and trust required to have a dynamic church requires in-person, face-to-face communication between team members.
When we assessed our campus pastors' needs a couple of years ago, we realized that their greatest need was relational time with the senior pastor and with each other. By talking this through and experimenting, we've been able to dramatically improve communication, relationships and support for them.
Other staff and volunteer ministry directors also need relationship and support that requires a combination of both digital and in-person meetings. Where is this working in your church? Where does it need to be improved?