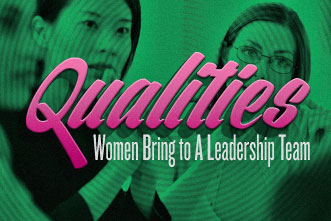 There has been a long-standing debate about women in leadership in ministry. This is not new, although the way the debate has found its way online makes it feel like it is new. But really, this conversation has gone on for decades, and, if you ask me, we have made very little progress.
Both sides use scripture to defend their positions. Both are fully convinced they are right. Both assume God is on their side.
And very few have ever "won" someone to the opposing side.
To be honest, I'm tired of arguing about it. In fact, I don't think I want to engage in the debate any longer. What I want to do, instead, is celebrate the gifts women everywhere are already bringing to the table.
None of these qualities are exclusive to women, nor do all women possess these traits. But in my many years working in and around churches, and with pastors, I've encountered many women who have brought these invaluable traits to the table, and our teams would have been worse off without them.
What gifts could you be missing by not engaging the women in your community?
1. Empathy.
I've worked with women who have the ability to empathize with situations, people and circumstances in a way that seemed foreign to me and to many of my colleagues. In fact, there were times when it seemed these women had a sixth sense for what was happening beneath the surface of a conflict, problem or the tension in a meeting.
Using their skills of empathy, the women I've worked with have been able to navigate these delicate circumstances to achieve a more positive outcome for all involved.
2. Multitasking.
I don't mean multitasking in the simplest form of the word. I'm not talking about the ability to walk and talk at the same time. I'm talking about the ability to focus on many different objectives, to see things in a nuanced way and notice the connections between things that someone else might have missed.
This is so vital to the church environment because, no matter what we're working on, there are always multiple layers involved. We are not only trying to accomplish a tangible objective (like putting together a Sunday service) but also need to be in tune to more abstract objectives—like listening to spiritual direction and trying to serve a community of people with unique needs and wants.
3. Gentleness.
Many of the women I've worked with have had the incredible ability to communicate a message in such a way that truth is not sacrificed, but neither is gentleness.
Both in public communication and interpersonal communication, I've seen hearts softened to a difficult message because of the gift a woman has to communicate in a palatable way.