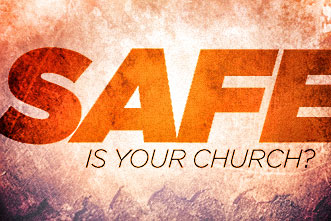 Is your church safe? I don't mean "we have police officers" and "we have hidden cameras" and "I'm packing heat on my pew."
Is your church safe for you to be you? Can you be the you that doesn't have it all figured out? That has more questions than answers, some days? Can you be the you that you are on the inside that nobody else sees? The you that wonders how in the world a God that loves justice could also love you? The you that you're ashamed of?
Is it safe to for you to bring your doubts?
Fears?
Questions?
Struggles?
Victories?
Insecurities?
Quirks?
Gifts?
Doubts?
Is it safe for you to bring the full force of these and not be shunned?
Not be cast out?
Not be shamed?
Not be laughed at?
Not be marginalized?
Not be made to feel "less than"?
Maybe a bigger question than, "Can you?" is "Do you?"
Do you lead the way in vulnerability? Because if you don't, they won't. If your current church environment doesn't afford you this luxury necessity, create it. If you're waiting for someone else to give you the permission, you now have it. I'm granting it to you right now. Be you. And when someone else brings their junk, don't take a step back. Take a step forward towards them and with them. Give grace, mercy, and patience. Give truth in love. Give space for continued exploration.
If we have a Savior that died for us, and was the ultimate example of welcoming sinners, we as the Church should be the most welcoming environment on earth. The safest place to still be "in process." The place where when you join our community you instantly feel at home. You may not be able to put your finger on it, but our people should feel like your people. Our group, your group. Our home, your home. Our grace, your grace. Your story, our story.
By our posturing, may we, the Church, be certain we're not telling the world, "Fix your junk before you come in here. Otherwise we will boycott, marginalize, slander, and shun you."
The safest place you'll ever find yourself is in a small group community that simultaneously knows and loves you.
Jesus was a "friend of sinners." (Matthew 11:18) Are we?