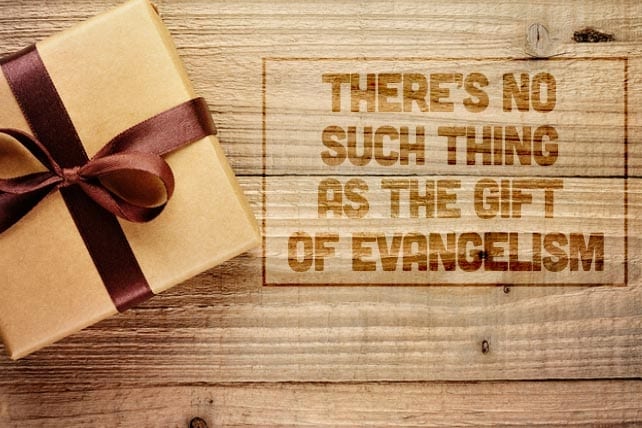 I don't have the gift of evangelism, Christians say. Why is it that Christians are always looking for ways to talk themselves out of doing evangelism?
It's pretty clear that God sent Jesus into the world to seek and to save the lost (Luke 19:10). Jesus acted on full authority of God and commissioned us to make disciples (Matt. 28:16-20). We have been sent into the world just as Jesus was sent (John 17:18; 20:21).
Yet, it seems to me a whole lot of people are talking themselves out of their calling to do evangelism for a lot of reasons. Let me tackle just two. Simply put, Christians need to stop thinking evangelism is a spiritual gift and stop thinking you can preach the gospel without words.
There's no such thing as the gift of evangelism.
It's an unbiblical and unhelpful idea to think we should not share the gospel because we lack the spiritual gift of evangelism. Some think if a person doesn't possess the gift of evangelism, then they are often relieved of this burden; they no longer have the responsibility to do evangelism. That's bunk.
Here is why it is so unhelpful to refer to evangelism as a spiritual gift reserved for the few: It removes the responsibility of all believers to share their faith. In other words, many think if they don't have the gift, then it is not their job.
But in the Bible, evangelism is not a "gift." (Don't believe me? Look it up.) Instead, sharing Christ is a call for all believers. Somewhere along the way, people confused the "role" of evangelist (Eph. 4:11) with the "gift" of evangelism. There is no gift of evangelism, but a call for all to evangelize. The church is gifted with evangelists, and their job is to equip all of God's people to do evangelism.
The "evangelist" is a biblical role and a gift to the church. Evangelism is a biblical mandate for all believers and a responsibility of the church. We should not wait for the gift of evangelism before we assume the task of evangelism.
All believers are given the ministry of reconciliation (2 Cor. 5:18). Therefore, all Christians are called to be agents of reconciliation and to share how men and women are to be reconciled and redeemed—changed by the power of the proclaimed gospel.
Preach the Gospel—use words, since it's necessary.
Francis of Assisi is attributed the statement: "Preach the gospel at all times; when necessary, use words." I've seen it on Facebook about a billion times.
I can appreciate living in such a way that our lives point to the person and work of Jesus. However, two basic problems exist: 1) Francis never said it, and 2), the quote is just not biblical.
For many today, wordless ministry is a compelling approach. "Words are cheap," we like to say, and, "Actions speak louder than words." Some cite 1 John 3:18 as validation for their lack of words: "Little children, we must not love with words or speech, but with truth and action" (HCSB).
But, John is not saying to be quiet, but rather to love one another in actions as well as words. The Bible is full of exhortations to share the gospel with words:
"This gospel of the kingdom will be proclaimed in all the world." (Matt. 24:14)
"They continued teaching and proclaiming the good news that Jesus is the Messiah." (Acts 5:42)
"Philip went down to a city in Samaria and proclaimed the Messiah to them." (Acts 8:5)
"This Jesus I am proclaiming to you is the Messiah." (Acts 17:3)
Christians are quick to encourage each other to "live out the gospel" and to "be the gospel" to our neighbors. The missional desire is helpful, yet the result can be really unhelpful if it continues to give Christians yet another reason not to share Christ.
Saying "preach the gospel; when necessary, use words" is a lot like saying "feed the hungry; when necessary, use food." Both are silly when people need bread—and the bread of life. So proclaim it. Out loud. To people without Christ.
The communication of the gospel is part of the process—and the only means—by which people are brought into a right relationship with God. The apostle Paul made this point to the church in Rome when he said: "For everyone who calls on the name of the Lord will be saved. But how can they call on him they have not believed in? And how can they believe without hearing about him? And how can they hear without a preacher?" (Rom. 10:13-14, HCSB).
If we are to make disciples of all nations, we must use words. So let me encourage us to preach the gospel—and use words, since it's necessary.
And you don't need a gift to do it.
Stop Using the Gift of Evangelism as an Excuse
Christians seem to really love evangelism—as long as someone else is doing it.
Let's not find and propagate reasons to not share Christ. There is not a gift of evangelism, but there is a call. Yes, we need to demonstrate the implications of the gospel in how we live—but let's tell people far and wide about the good news of Christ
Let's just have everyone tell somebody about someone who changes everything.