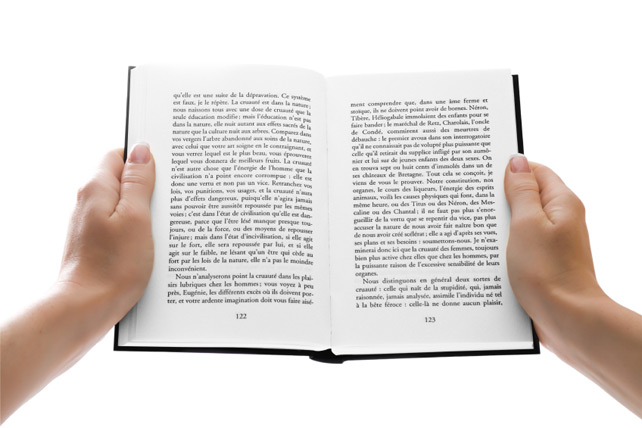 A new version of the Bible in development is removing many conventional layout features in an attempt to make it more "readable," and backers around the world can't wait. The Bibliotheca Bible will be, according to their description, an "elegant" set of four volumes "designed purely for reading" with all verse and chapter numbers, section headings and cross-references removed. Adam Lewis Greene, designer on the Bibliotheca project, told The Huffington Post he hopes his novel-like design will be more comfortable to read, easier to understand, and will emphasize the Bible's overarching storyline.
Greene posted a fundraising effort for the project on Kickstarter late last month, hoping to collect around $37,000 for a first-run. By the time the fundraising ended on July 27, backers from around the world had contributed more than $1.4 million to the project and had ordered 4,500 copies of the four-volume set, priced at $75 each. Greene told THP that he was shocked by the response.
"What I thought would be a small scale project for a niche pocket interest has received an overwhelming amount of attention across the globe from people of many backgrounds, faiths and languages," he said. "Clearly this concept has struck a chord."
Via video on the Bibliotheca website, Greene explained how design contributes to the readability and enjoyment factor in your experience with a book. "Book design is something that we don't often think about. The book is actually doing work to eliminate distractions for the reader," said Greene. "When we pick up the Bible, we see an incredibly daunting spread in front of us … Could it be that the encyclopedic nature of our contemporary Bibles is what's driving this idea that the biblical literature is dry and boring?"
Greene developed a new typeface for the book and used the American Standard Version of the Bible for the text with some modification for contemporary word-choice and usage. Orders for the set are expected to be fulfilled in December.
Greene isn't the only one trying out this "unbroken narrative" style of Bible layout. Crossway has just released a new ESV Reader's Bible which was created, according to its online description, "for those who want to read Scripture precisely as it was originally written." Like the Bibliotheca, verse and chapter numbers, headings, references and footnotes have been removed, and the text is laid out in a novel-like single-column design. Crossway recommends this version for "devotional reading, extended Bible reading or for focusing on the overarching narrative of the Bible."