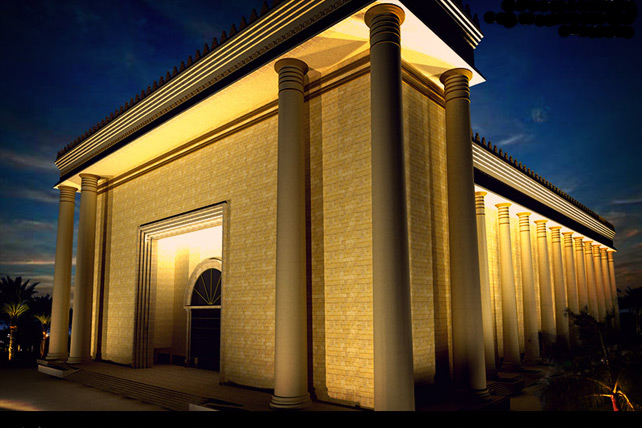 Last week, the billionaire founder and leader of the Universal Church of the Kingdom of God in Sao Paulo, Brazil, introduced his gigantic church building project to the world. Over the last four years, Edir Macedo has funded and overseen a grandiose replica of the Temple of Solomon, which stands nearly twice as high as the Christ the Redeemer statue in Rio de Janeiro and takes up an entire city block.
The 10,000-seat, 11-story building is designed as a worship center and tourist attraction. According to its website, the replica was built with stone from Hebron and is decorated with Italian marble, a replica of the Ark of the Covenant, 30 columns, a grove of olive trees reminiscent of Gethsemane, chairs imported from Spain and 100 square meters of gold stained glass. The property accomodates parking for more than 1,000 vehicles and includes a helipad. It now hails as Brazil's largest religious space, says Forbes, and will house an Old Testament museum, enough education space for 1,300 children and radio/TV studios.
"This temple is not about a denominational project, but something so glorious and spiritual that transcends reason itself," said Macedo. "It will certainly awaken the dormant faith of those who are cold and will prompt a national and worldwide revival."
"In this new Temple, all, without exception, will have free access to seek God, unlike the past Temple, where the only people allowed to enter were the high priest into the Holy of Holies," added Macedo.
"The Universal Church spared no expense," said Rogério Araújo, chief architect for the project, as reported by The New York Times. On a tour of the site, he added, "We sought to build a colossus, something that would make people stop and gaze, and that's what we delivered."
Brazil, which boasts the world's largest Catholic contingent at 60 percent of the population, has a soaring population of evangelicals, as well. The Christian Post described the Universal Church of the Kingdom of God as "a Pentecostal denomination specializing in prosperity theology." Macedo, 69, was listed in Forbes' 2013 billionaires ranking with a net worth of $1.3 billion and has been accused in the past of corruption, tax evasion, money laundering and fraud.