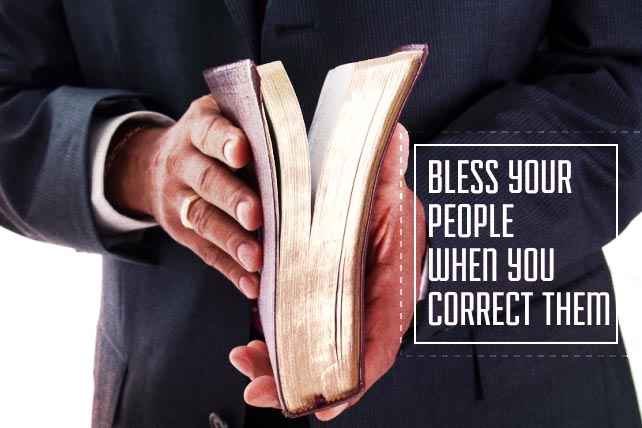 One of the most loving things you can do for someone is tell them when they're wrong.
While it's tough enough to embrace the blessing of rebuke when you find yourself the recipient of some corrective word, the work that can be even more difficult is initiating that awkward moment, and carrying through on loving someone enough to call them out. "If it is hard to accept a rebuke, even a private one," says Don Carson, "it is harder still to administer one in loving humility" (Matthew, 456).
But however difficult it may be, if we really believe that we all are sinners, and that unchecked sin leads to pain and misery and eternal destruction, love will constrain us to give the gift of loving reproof. In the spirit of seeking to provide reproof in "loving humility," here are seven steps toward correction that is truly Christian.
1. Check your own log first.
The words of Jesus are a good place to begin. Often the subtle expressions of sin we see in others catch our eye because they find resonance in our own hearts. Our indwelling pride is quick to alert us to pride in others. Unconquered greed in our hearts notices others' love for stuff. A slip of the tongue to which we're also prone gets our notice in someone else.
So, a first step when encountering sin in others is following Jesus' clear directive: "First take the log out of your own eye, and then you will see clearly to take the speck out of your brother's eye" (Matthew 7:5 when helping to restore a brother: "Keep watch on yourself, lest you too be tempted."
What, then, do we do when we find the speck of someone else's sin in us as well? Does it mean that the opportunity to help a brother has passed because we have enough work to do on ourselves? It may. But hopefully not. Before approaching them about their sin, renew your own repentance in your tendencies to the same temptation, and then come to your brother with fresh humility, and empathy, as a fellow combatant of that sin.
2. Seek to sympathize.
Whether you've "been there" and can empathize with their specific sin or not, pray for sympathy and seek to mind what we might consider the Golden Rule of Rebuke: "Whatever you wish that others would do to you, do also to them" (Matthew 7:12).
Which, on the one hand, should confirm that when we observe something in a brother that warrants correction, the loving thing is not just to let it slide but to bring it to their attention. Isn't that what the most sanctified part of you would want as well? And, on the other hand, that leads us to do so with a certain posture and demeanor—"loving humility."
As much as you're able, put yourself in their shoes and consider how to remind them of foundational gospel truths as you seek to open their eyes to some further reality relating to their remaining sin. Consider the manner in which you'd want to be approached with such an observation, and give extra effort to make sure it comes off as a word of brotherly correction, not condemnation. "Bear one another's burdens, and so fulfill the law of Christ" (Galatians 6:2).
3. Pray for restoration.
Having checked your own log and sought sympathy, pray for them before confronting them. Pray about the moment you confront them, that you would give it sufficient gospel preface, that they would receive your loving correction, and that if they resist in the moment, God would soon soften their heart to the degree that your observation is true. Also pray for loving courage to gently hold your ground and not immediately backtrack if they snap back or their inner lawyer immediately objects.
Pray and speak toward restoration, not merely righting wrongs and appeasing your own judicial sentiment. Whether it's the formal process of Matthew 18:15-17).