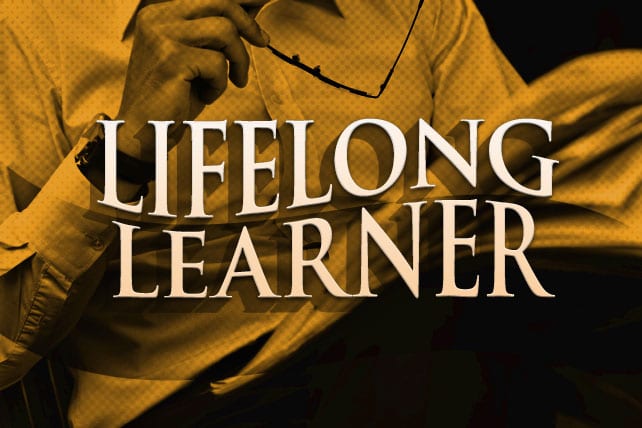 Wisdom does not come automatically with age (Job 32.8–9″ data-version="esv" data-purpose="bible-reference">Job 32:8–9). You'll find plenty of foolish old fogies out there.
For many aged saints, gray hair and a good head go hand in hand. But for others, far too many others, length of life only entrenches stubbornness, irritability, and careless ways of thinking and living. Life experience may increase inevitably with age, but without some long-term pattern of receptivity and intentionality, multiplied experiences will only create more confusion than clarity.
For Christians in particular, the stakes are even higher for cultivating holy curiosity and the mindset of a lifelong learner. Teaching and learning are at the very heart of our faith. To be a "disciple" means to be a "learner." Our Master is the consummate teacher, and the central task of his undershepherds in the local church is teaching (Titus 1:9). God designed the church to be a community of lifelong learners under the earthly guidance of leaders who are teachers at heart.

The Christian faith is not a finite course of study for the front-end of adulthood. Our mindset shouldn't be to first do our learning and then spend the rest of our lives drawing from that original deposit of knowledge. Rather, ongoing health in the Christian life is inextricably linked to ongoing learning.
Learning Till the Day of Christ—And Beyond
Many of us have felt the comfort of Philippians 1:6, that "he who began a good work in you will bring it to completion"—but the statement doesn't end there. Yes, we have the great promise of completion, but then follows a sobering disclosure about the timing: "at the day of Christ." The loop of learning doesn't close today or tomorrow, but as Jesus tarries, a lifetime lies ahead.
And even in heaven, and then in the new creation, we shouldn't expect that our learning will be done. In our Beloved, we have a bounty of blessings such that "in the coming ages [God will] show the immeasurable riches of his grace in kindness toward us in Christ Jesus" (Ephesians 2:7). We're not given it all at once, but forever we have new mercies to discover, fresh revelations to receive, new things to learn about our Lord. We are not just given a promise of increase that is lifelong, but eternal.
And so we are lifelong learners. Two important questions then lie before us: a simple what and a simple how. One, what is the framework for our lifelong learning? Is there a grid or focus or organizing principle as we continue to learn and grow? And two, how might we go about practicing such learning for a lifetime?