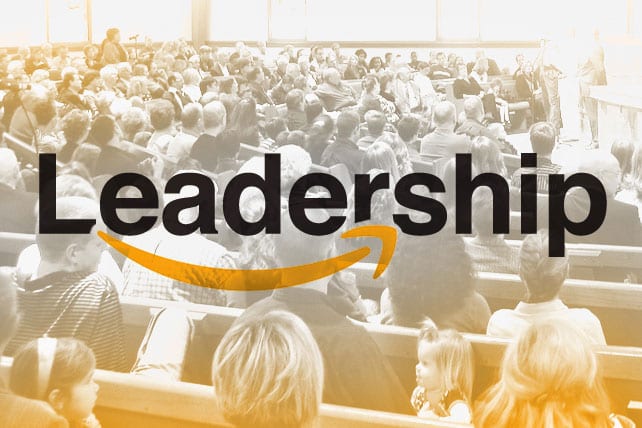 Amazon continues to be a force in our culture. In the run up to Christmas, they sold 426 items per second! I just finished reading Brad Stone's fascinating study of Amazon called The Everything Store. I was struck by the 14 leadership principles that Amazon (and CEO Jeff Bezos) operates by and wondered how they might apply to leading in a church. Here are my reflections on the principles … I'd love to hear yours in the comments!
Customer Obsession—Leaders start with the customer and work backward.
Even a cursory amount of research on Amazon reveals they are obsessed with serving customers. They fixate on crafting easier and better customer experiences—1-Click Ordering, Prime Membership, Kindles—the list goes on and on! How obsessed are church leaders about our guests? Do we listen to them and try to understand how we can create better experiences? It's humbling to see a retailer so passionate about serving people. Do we at least match that intensity with our important mission?
Ownership—They act on behalf of the entire company, beyond just their own teams.
Once your church grows beyond 200+/- people, the silos and fiefdoms begin to multiply. Departments try to outdo one another with their volunteer thank-you events and swag. We cheer just a little louder when our team does something right. One group of creative communication types may sneer at something that another group does. We need to help our teams ask the bigger question: How are we working to see all departments, campuses, teams and people win at our church?
Invent and Simplify—As we do new things, we accept that we may be misunderstood for long periods of time.
When was the last time we tried something new? I mean really new … something that people might think you're crazy for doing. Amazon plays the long game on a lot of its projects and is misunderstood all the time. Some of it has worked (Amazon Web Services) and some of it has bombed (Fire Phone), but they're in the game to grow their business and delight customers. Why don't churches have research and development departments? How can we be misunderstood this year?
Are Right, a Lot—Leaders are right a lot. They have strong business judgment and good instincts.
This is an interesting value for church leaders to consider. Where is the tension between strong leadership and a lack of humility? I've met a lot of amazing church leaders with great instincts, but they hold back because they don't want to be perceived as pushy.
Hire and Develop the Best—Leaders raise the performance bar with every hire and promotion.
When you transition from being a solo pastor to a multistaff church, the most important thing you can do is hire and develop your staff. While I totally believe this to be true, I haven't always lived it out. Like all nonprofits, we're stretched for time and energy. Hiring can fall to the bottom of a very long and pressing list. I've been caught (more than once) with the dilemma of hiring too early, thinking "someone is better than no one." It's bit us every time.