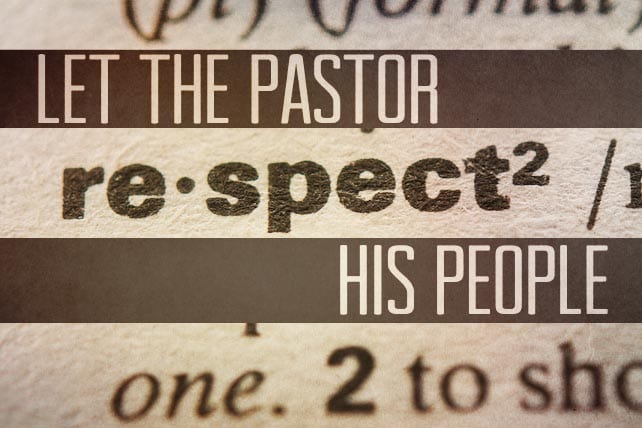 "We being many, are one body in Christ, and individually members of one another" (Romans 12:5).
Has the Lord ever spoken to you through your own words?
One morning recently, I posted the following on Facebook: Pastors, do not ever say that your people do not like change. There are no 1947 Packards on your church parking lot. Even your seniors drive late-model cars, own flat-screen televisions, and are on the computer. They do not mind change, so long as it's not abrupt, not all at once and not forced on them. Pastor, respect your people and they may surprise you.
Where did that last sentence come from, I wondered as it flew off my fingers through the keyboard onto the screen.
That was a new thought.
"Pastors, respect your people."
There is—let us reluctantly admit—a lot of disrespect of church members among the clergy. Congregations feel it and rarely voice it. Colleagues in the ministry see it among their peers and rarely mention it. But it's there.
(Note: Those who read this blog regularly know that a frequent concern of ours is the disrespect church members show toward pastors. But sadly, the opposite is true also, and needs to be addressed.)
1) When a pastor speaks disparagingly of his people to others, he disrespects them.
Can you imagine a man running down his wife or his children to complete strangers? Yet, some pastors will say mean-spirited things about their members to other ministers. They know other pastors will understand and that they are safe to speak their minds in this setting. But this betrays an unloving spirit and is unworthy of a servant called of God to serve His people.
If the Lord's disciples are known by their love for one another—that's John 13:34-35 and it's still in force—it should go without saying that pastors should lead the way in loving and showing that love.
2) When a pastor forces his will on a congregation, he disrespects them.
New pastors are often guilty of instituting wholesale changes in worship services, staff makeup, church ministries and congregational directions, without asking the members for input. Few things show a blatant disrespect for God's people more than the pastor insisting on his way, whether the members support it or not.
3) When the pastor does not seek the input of the congregation on major issues and is inflexible in his proposals, he disrespects them.
No pastor would say, "My way or the highway," but far too many have said, "If you don't like it, there is the door." The pastor who is unwilling to abide—and love and minister to!—members who disagree with him is not a shepherd, but a tyrant.
4) When the pastor expects more from the church members than he does from himself, he disrespects them. 
Unable to discipline himself and control his own mouth, he nevertheless expects them to stifle their dissent and follow his lead.
I keep remembering a time when I was just finishing college and went with Margaret to a football game at the local Baptist school. We sat behind two preacher boys from that school who spent the entire game discussing their small (and no doubt first) pastorates. Each seemed to try to outdo the other in describing how dumb or obstinate or backward or ignorant their people were. I was amazed, and more than a little angry. (I have no memory of what happened on the football field that Saturday afternoon, but will never forget those two men.) At the time, I was hoping to pastor a church—some church, somewhere! Any church. And here these two characters were, given the opportunity to shepherd the Lord's people and were dissing them big time.
5) When a pastor plays the "I am in charge" card, he disrespects the Lord's body and insults the Lord.
A deacon told me his pastor tries to stifle dissent by insisting, "God put the pastor in charge of the church. Mine is the only vote that counts."
Such a view is completely unbiblical and harmful to the body of Christ.
While Scripture does indeed say the Holy Spirit made the pastors the "overseers" of the church—without defining the term or establishing the parameters—it also makes clear that the pastors are to serve the congregation, not dominate them. (See I Peter 5:2ff and 2 Corinthians 4:5 for starters.)
Let the pastors respect their people.