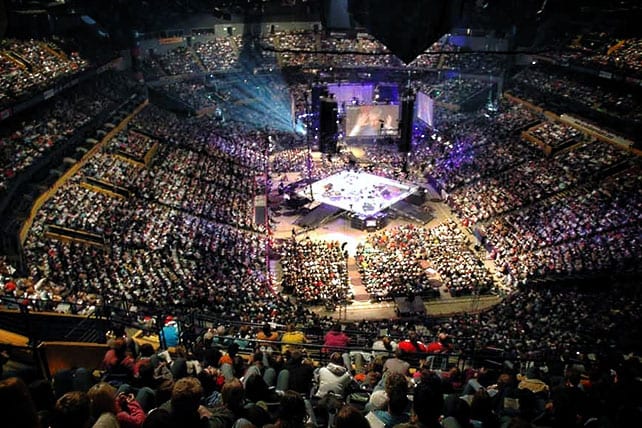 Christian conference season is in full swing once again, which means there's inevitably going to be a flood of blog posts and tweets from various corners of the Interwebs about this or that event. Some folks will be live-blogging. Others will be live-tweeting. And some will be lamenting the fact that there aren't any "ordinary" pastors headlining anything.
I've wondered about this for a while. We're all equal in Christ, after all. Those who are more obscure in their ministry have as much to say (sometimes even more) than those who are extremely well known. So why do our conferences seem to focus primarily on the latter group? What's the deal?
Why aren't unknown pastors speaking at big events? The answer is actually pretty simple: it's because you wouldn't go if they did.
Now, before anyone thinks I'm accusing any groups of propping up the so-called "Christian celebrity industrial complex," or that I'm telling people who complain about such things to knock it off, let me tell you a story:
A few years ago, I went to a three-day conference here in Ontario, which featured several speakers (and only one of whom was fairly well-known among theology nerds like me). The location was quite accessible, located just off the 401 highway (and had free parking, even!). The word spread, sponsors and volunteers signed up… However, maybe two hundred people showed up.
A year later, a big two-day men's event was announced, again here in Ontario. Three of the four speakers were, without question, Christian celebrities (even if one of those three is anything but in his demeanor). The location was in a city's downtown core (and therefore had some challenges with parking especially). Again, the word spread, sponsors and volunteers signed up… This time, about eight thousand men showed up.
Which was the more edifying event? Having attended both, the former, by far. But significantly more people went to the latter. Why? Because they wanted to hear the big name speakers.
And that's a huge reason people go to big conferences—it's not that the conference organizers are trying to perpetuate Christian celebrity-ism. It's that people will only go if they make it worth their while. There has to be a draw.